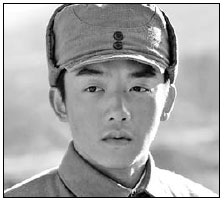 New TV series portrays youthful patriotic fervor
My Life in Yan'an, a TV series to commemorating the 90th anniversary of the founding of the Communist Party of China, is now showing on China's major satellite television channels.
Produced by Hunan satellite TV, the serial is helmed by director Sang Hua, and stars sought-after young actor Zheng Kai and actress Sun Xiaoxiao, both of whom play patriotic youths who grow up in the revolutionary era and are ready to sacrifice their lives for their country.
An actor belonging to the generation born after 1980, Zheng says he wants to share the character's fighting spirit with young audiences and encourage them to shoulder responsibilities.
Show Me First puts graduates in the spotlight
The launch ceremony for The Graduation Song, a large-scale variety show featuring university students born after 1990 who are on the threshold of graduation, was held on June 20 in Beijing.
Produced by Show Me First, a CCTV program putting the spotlight on talents in different professions, the show will offer a platform for graduates-to-be to strut their stuff and to express their feelings about their classmates and teachers.
Students from 22 prestigious universities, including Nanjing University and Fudan University, will give performances. The program will be shown on July 18.
Celebrate the CPC in prose or poetry
To commemorate the 90th anniversary of the founding the Communist Party of China (CPC), the Chinese Writers' Association and China Mobile Group jointly launched a one-month-long writing contest, on June 21, in Beijing.
Submitted works are required to center on the theme of the 90th anniversary of the founding of the CPC and take the form of prose (less than 1,500 words) or poetry (less than 30 lines). Works that pass the preliminary trial reading will be published on the China Mobile reading base. A jury panel will select two first-prize pieces, four second-prize pieces, and six third-prize pieces.
The submissions are to be sent to zhengwen0701@139.com.
Gold List awards handed out to tourism operators
On June 20, the sixth annual Gold List Awards of China Tourism was wrapped up in Beijing, giving out awards in 27 categories to prominent players in the tourism industry.
Held by National Geographic Traveler China, a leading travel magazine, the event provided a platform for tour operators at home and abroad to showcase their products and services.
Launched in 2006, the event has taken place five times and is becoming the most influential evaluation platform of the tourism industry in China.
Book brings country's 'big films' into focus
Time of Big Films, a book compiled by the Institute of Film and TV of Chinese National Academy of Arts, was published recently.
"Big films", a concept created by the authors, covers not only film and TV plays, but also animation, Internet drama, and cell phone drama. Many of these genres are becoming more popular because of the adoption of digital techniques and are reshaping the imaging industry, according to the book's authors.
It is a retrospective of the Chinese imaging industry of 2010, and includes art and other artistic productions. The Chinese National Academy of Arts organized a symposium on the concept of "big films" to mark the release of the book.
Tianjin to become North China's medical hub
Tianjin Medical University is focused on the construction of Tianjin Medical University International Medical Town.
"Tianjin Medical University is to build up the Tianjin Medical University International Medical Town as part of the overall development of Tianjin Binhai New Area," Hao Xishan, president and academic of Tianjin Medical University, says at a ceremony celebrating the 60th anniversary of the founding of the university.
To be located at the Tuanbo New Area in Tianjin, the Tianjin Medical University International Medical Town is expected to cover 275 hectares, including an international medical zone, medicine R&D area, medical education zone, health education and rehabilitation zone, and medicine research hub.
By attracting high-end medical talents and incorporating medical and bio-medicine related experts, both from China and abroad, and by applying new managing methods, Tianjin Medical University International Medical Town will become the medical and health hub of North China.
China Daily
(China Daily 06/23/2011 page20)