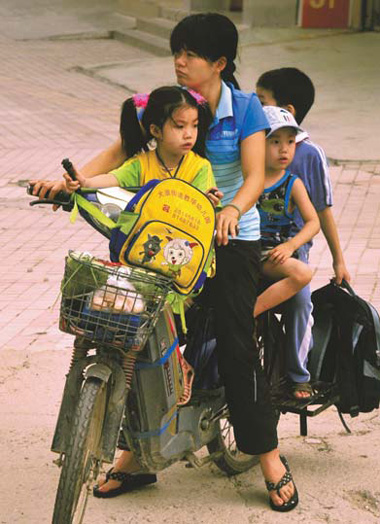 A woman uses an e-bike to carry three children home from school in Shenzhen in this photo taken on June 8. E-bike riders in Shenzhen will be fined 200 yuan ($31) each time they break the new rule from July 1. Provided to China Daily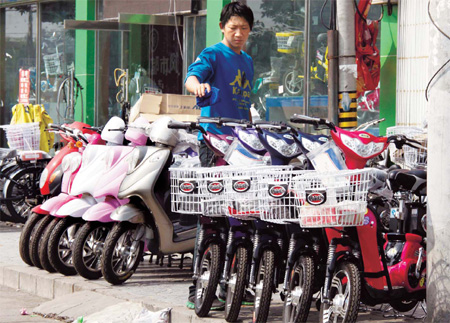 A salesman at an electric bicycle shop in Beijing cleans his new bikes outside the west gate of Tsinghua University. The ban on electric bicycles in Shenzhen might affect the industry. Zhu Xingxin / China Daily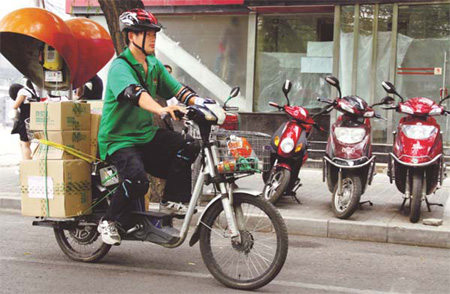 A delivery man of an online shop heads to customers in Beijing. The ban on electric bicycles in Shenzhen is expected to affect express delivery business there. Zhu Xingxin / China Daily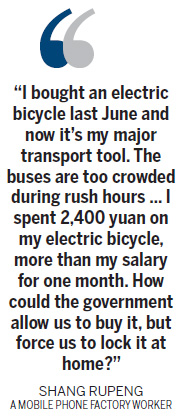 Shenzhen ban may give green light to other cities to introduce measure, reports He Na in Beijing.
Shenzhen, in Guangdong province, is often acclaimed for its pioneering spirit. As China's first special economic zone, it was transformed from a small fishing village into a major national economic hub.
Now it is making another pioneering move - banning electric bicycles, often referred to as e-bikes, from most of its streets. No small task considering the city has 500,000 e-bike owners.
The ban is for a six-month trial basis, and it could be extended.
A notice released by the Shenzhen municipal commission of transport and the public security bureau cited safety concerns as the reason for the ban.
Last year, according to Shenzhen traffic police bureau, 64 people were killed and 233 were injured in 268 accidents caused by e-bikes. The bikes accounted for 15.7 percent of all road accidents in the city in 2010.
"The bicycles are capable of high speeds and there is no registration requirement," Sun Wei, a traffic management assistant in Luohu district, said.
No registration means no license plate to track down, so riders can easily flee after an accident, making it difficult for victims to claim damages.
The ban will last until Dec 5, when authorities will review it and decide whether to make it permanent. It took effect on June 6 with no apparent drop in the use of e-bikes.
The traffic bureau said a transition period will last until June 30, and until then they are using education and persuasion as the means of getting them off the road.
"So far, we are only issuing an oral warning to riders," Huang Weijiang, from Luohu traffic police brigade, said.
"Riders could switch to a bike or public transport, such as the bus or metro."
Starting July 1, however, riders can be fined 200 yuan ($31) each time they break the new rule.
Meanwhile, other cities are watching with interest. Quanzhou and Xiamen in Fujian province and Chengdu in Sichuan province are considering a similar ban.
Fans and critics
Some people have complained online that the government made its decision without input from the people, and that many would be inconvenienced.
But Hu Xiaolin, 31, of Beijing is all for the ban. Her right ankle was broken last month when a speeding electric bicycle collided with her ordinary bike, and she still cannot walk.
"One week's stay in the hospital cost me over 20,000 yuan," Hu said. "Now I feel a little afraid whenever I think of an electric bicycle," Hu said. "I hope Beijing can copy Shenzhen's action."
Chen Liangliang, 27, doesn't buy the safety reason. "If they look at figures, they would find the number of motor vehicle accidents is at least five times higher than non-motor ones. According to their logic, why don't they ban all the cars?"
A netizen using the name Maybach2011 called electric bicycles Shenzhen's moving bomb, with the speed of a motorbike. "Of course it provides convenience to a group of people, but the fact is it brings more danger to the rest. I totally agree with the ban."
Shang Rupeng does not. "I bought an electric bicycle last June and now it's my major transport tool. The buses are too crowded during rush hours. It's often very awkward for me, especially in summer. I hate the feeling of being sucked into the crowds, with other people's bodies pasted to mine.
"I spent 2,400 yuan on my electric bicycle, more than my salary for one month," said Shang, who works at a mobile phone factory in Shenzhen. "How could the government allow us to buy it, but force us to lock it at home?"
Wu Limin, a former deputy to the Shenzhen Municipal People's Congress, recognizes the safety issues and the "irresistible general trend" to respond with regulations.
"But the problem of electric bicycles cannot be solved by banning them," Wu said. "It's just like we can't cut the feet to fit the shoes. Banning electric bicycles should be synchronized with improving the city's public transportation network."
"It's the citizens' right to choose their favored method of transportation," said Qi Ming, who works at a Shenzhen newspaper. "If people like, they can even travel on skateboards or Rollerblades.
"Electric bicycles are a good supplement to city transport," Qi said. "Blindly banning them will only force people to buy cars. The more strictly the ban is enforced, the more traffic jams and pollution will occur."
There's also risk of an economic effect. More than 1,000 factories nationwide produce electric bicycles; 200 of them are in Shenzhen, 40 in Shajing town alone. Annual output of Shenzhen's e-bike industry is valued at 1.6 billion yuan.
Express delivery
Electric bicycles are more than a convenience for commuters. They are "the main transport tool for China's express delivery companies to dispatch goods to households", said Xu Yong, an analyst for China Express Consulting.
"Shenzhen has over 60 express delivery companies. Once the ban is enforced strictly, a huge backlog of orders will be inevitable, and that will have a significant negative impact on the entire domestic express delivery network," Xu said. "I think issuing special passage permits to express delivery companies is a good way to solve the problem."
Liu Qiangdong, CEO of 360buy.com, said on his Weibo micro blog that because of the ban, the shopping website must rent more delivery sites to narrow the distribution range. He expects the cost of running the company to rise by 40 percent.
Express delivery giants such as EMS and Shunfeng plan to buy minibuses, although they are less convenient and their operating costs are higher.
Water and milk delivery has been affected as well. "A few of my water guys came to me and quit on the day the news came out," said He Youlin, who owns a potable water shop in Futian district. "We have no minimum wage and it all depends on the commission, how many buckets of water you deliver every month. They can't make a living without electric bicycles."
E-bike's future
If electric bicycles were given the death penalty in Shenzhen, their status elsewhere in China isn't much better.
A notice affirming the top speed limit of 20 km per hour and a weight limit of 40 kilograms was issued in March by four agencies, the Ministry of Public Security; the Ministry of Industry and Information Technology; the State Administration of Industry and Commerce; and the General Administration of Quality Supervision, Inspection and Quarantine.
Those limits were set as the national standards in 1999, and the March notice said that electric bicycles that exceed the limits are sub-standard. Producing them, selling them and driving them on public roads are prohibited.
The notice also required all parts of the country to set a transition period to eliminate sub-standard electric bicycles. Beijing hasn't yet determined that period.
After three months, sales have not been affected on Beijing's "electric bicycle street", about 500 meters from the west gate of Tsinghua University. Giant, Yadea, Xinri, Luyuan - customers can find almost all of the domestic brands of electric bicycles among more than 20 franchise stores and service shops.
"From June to October is the boom selling season and we can sell about 200 electric bicycles a month on average, almost the same as last year," said Zhang Shuang, sales manager of Xinri electric vehicle franchise store.
"I knew that four government agencies launched a notice to limit the speed and weight, but it hasn't influenced sales at all," Zhang said. "Nowadays customers only care about price and speed.
"I've never heard that customers like to buy low-speed ones. If the speed is limited to less than 20 km/h, people might as well ride a bicycle rather than spend at least 2,000 yuan on an electric one."
In the Yadea franchise store, three young women in red T-shirts were busy answering customers' questions.
"We can sell about 100 a month on average," seller Chen Han said. "The majority of customers are office workers and students.
"Except old people, no one worries about high speed. Only an idiot will spend a lot of money on an electric bicycle that drives like an ordinary bicycle."
The most popular model in Chen's store costs 2,500 yuan, with the highest driving speed of 35 to 40 km/h and a weight of 50 kg.
Chen said that each electric bicycle has a speed governor. Customers can tear it down after purchase.
30% of world share
Statistics from China Market Intelligence Center show that China is the world's largest producer and distributor of electric bicycles. Both its annual production and consumption account for more than 30 percent of the world's total.
In 2009, China's output of electric bicycle reached 22.2 million. A year later, the number was 29.54 million, an increase of 33 percent.
But the national standard has remained at the level set 12 years ago, when China had fewer than 50,000 e-bikes.
The economy has developed rapidly and cities have expanded, said a spokesman for China Bicycle Association who gave only his surname, Fan. "The standard should adjust with the pace of the times."
The association, businesses and consumers are hoping the ban and the March notice will be replaced with new standards that reflect current technology and market demands. They say the need is urgent.
"Twelve years ago, the majority of electric bicycle batteries were 24 volts, which could support only 10 kilometers' driving. Now, with 48-volt batteries, the bicycle can run three or four times farther. Naturally its weight will increase; 40 kg is also behind the times," said Guo Jianrong, secretary-general of the Shanghai Bicycle Association.
International standards should be taken into account "to raise the speed to 30 to 32 km/h", said Hu Gang, vice president of Xinri E-Vehicle Corp. Top speeds allowed elsewhere include 25 km/h in Europe, 31 in the United States and 24 in Japan.
Birthday surprise
Zhang Lijuan and his wife want to buy an electric bicycle for their daughter, who works in Zhongguancun, Beijing.
"Countless people drive electric bicycles," Zhang said. "How could traffic police have the energy to punish every of them in such a big city?
"My daughter often complains about the overcrowded subway and traffic jams. I think an electric bicycle is fast and convenient. Next month, for her 25th birthday, we want to give her a surprise."
Shi Yingying contributed to this report.
(China Daily 06/20/2011 page1)