MONACO - Five-time Australian Olympic swimming champion Ian Thorpe said he was relishing being back in the pool five years after quitting competition.
Thorpe, 28, recognizes that next year's London Games will be his Olympic hurrah, but says he will seize the moment as he looks to get back to the form which made him his country's most medaled Olympian.
"It's really nice to be swimming again and to enjoy the life of an athlete. I think I forgot what it's like to do this and I didn't appreciate that so few people get to enjoy this," said Thorpe, attending the final stage of the Mare Nostrum circuit at Monaco as an onlooker rather than a competitor.
"Now I'm back doing this, I'm enjoying the kind of training lifestyle, to be fit and healthy again," said Thorpe, who in February announced that he would seek to qualify for the 2012 Games, focusing on the 100m and 200m freestyle.
Thorpe cannot return to competition before November but came to Monaco with coach Gennadi Touretski with whom he is preparing his London assault from his training base at Tenero in Switzerland.
He explained that his decision to return to the pool had been sudden as he had initially not missed the buzz of top competition.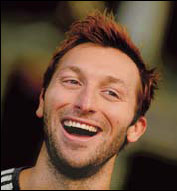 "I had no desire to swim until this one day and on this day, I decided that I would swim.
"Before then, I thought before what it might be like. But when I thought of this time, I thought of all the reasons why I didn't want to do it and for the first time when I decided I would swim again I realised these reasons weren't good enough.
"I needed to do this, I need to see what I can do, what I used to be able to do if it's not better, so that for the rest of my life I can say 'oh I gave it a try'.
"The part of swimming I enjoy most is performance. It's the part where you do the preparation to be able to perform at the ultimate level."
Regarding London, Thorpe explained: "I realize it's mainly the last opportunity where I can do this and after this, physically I may not be able to do it any more."
Asked how he sees his current capabilities compared with when he dominated his sport, Thorpe said: "I'm physically not ready to know how well I can swim. I'm working on it. Towards the end of the year, I'll be able to answer more directly."
He added that he fully intended to get back to his old form and not be satisfied with simply coming back to make up the numbers.
"Unless I felt I could swim faster than I used to, I didn't want to do it. So for me to qualify I have to swim at my best in Australia. So this is what I want to do."
At the same time he is aware that the sport has moved on and today's competitors have refined their technical and physical prowess still further than in his heyday of 2000-2004.
"The biggest difference is physically people have changed. People are bigger than they used to be because I used to be the biggest person and I realize people are bigger than me, and the men, the women, it's a lot more power."
Even so he insists there will always be more to swiming than power and physical strength alone.
Agence France-Presse
(China Daily 06/13/2011 page24)