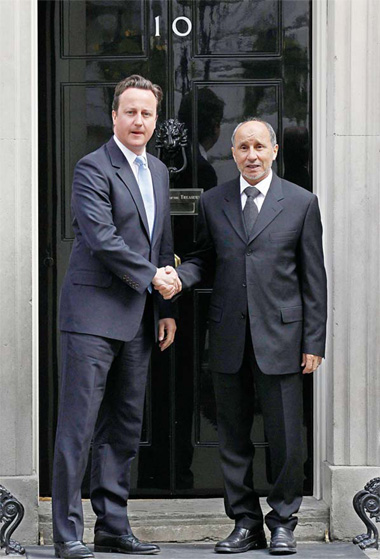 British Prime Minister David Cameron (left) greets Mustafa Abdel Jalil, chairman of the Libyan National Transition Council, outside Downing Street No 10 in London on Thursday. Suzanne Plunkett / Reuters
TRIPOLI, Libya - NATO airstrikes struck Muammar Gadhafi's sprawling compound in Tripoli and three other sites early on Thursday, hours after the Libyan leader was shown on state TV in his first appearance since his son was killed nearly two weeks ago.
Explosions thundered across the capital, and wailing ambulances raced through the city as the last missile exploded.
Government officials and Libyan television said the strikes targeted Bab al-Azaziya, Gadhafi's compound. They did not say which of the compound's buildings were targeted.
NATO - which had no immediate comment about the latest strikes - has hit Tripoli repeatedly this week as part of its effort to weaken government resistance to a three-month-old rebellion.
NATO said most of the alliance's 46 airstrikes on Wednesday were concentrated in and around the Libyan capital, hitting command and control centers, ammunition dumps and anti-aircraft missile launchers.
In the eastern city of Benghazi, headquarters for the opposition movement, rebel spokesman Abdel-Hafidh Ghoga claimed that anti-Gadhafi residents in the Tripoli area were staging peaceful demonstrations in many neighborhoods, prompting the regime to deploy troops and tanks in the streets that may have been diverted from other regions.
Gadhafi speaks
Libyan television showed Gadhafi meeting officials in a Tripoli hotel, ending nearly two weeks of doubt over his fate since a NATO airstrike that killed his son.
The Libyan leader, who had not been seen in public since the April 30 strike on his Tripoli compound, made his appearance on Wednesday in his trademark brown robe, dark sunglasses and black hat.
Gadhafi was shown greeting a group of tribal leaders who support him. "You will be victorious," an old man told Gadhafi.
Four months into a revolt against his rule, Gadhafi is still holding doggedly onto power despite weeks of NATO strikes on his military and command structures.
The conflict has now entered a stalemate, with Gadhafi in control of most of the west of the country, while the rebels are hemmed in to their stronghold in the east of the country and a few pockets in the west.
DPRK embassy hit
Libyan television reported that the Democratic People's Republic of Korea (DPRK) embassy in Tripoli has suffered major damage in a NATO strike on the city.
"We have seen these reports. We cannot verify them independently. NATO conducts all its strikes with the greatest precision to avoid damage to the civilian population, unlike the government and forces," an unnamed NATO official said.
Cameron reaches out
Britain will supply police officers in rebel-held eastern Libya with uniforms and body armor and help establish a public radio station, British Prime Minister David Cameron's office said on Thursday.
Cameron also invited the Libyan rebel leader to open an office in London.
Cameron made the decision after meeting with Mustafa Abdul Jalil, head of the Libyan National Transition Council at the Downing Street No 10.
In addition, Cameron said Britain will further supply non-lethal equipment for police officers in Libya.
He said "these steps continue our very clear intention to work with the council to ensure Libya has a safe and stable future".
AP-Reuters-Xinhua
(China Daily 05/13/2011 page12)