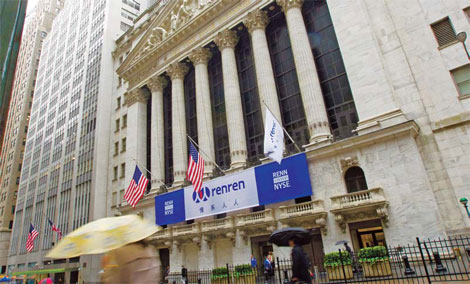 A Renren Inc banner hangs outside the New York Stock Exchange on Wednesday. Renren, thought of as a Chinese version of Facebook, rose as high as $24 from its issue price of $14 a share. Jin Lee / Bloomberg
High expectations could be hit by a slowdown in company's growth rate
BEIJING - While foreign investors hailed the 28.6 percent surge of Renren Inc at its trading debut on the New York Stock Exchange Wednesday, analysts and industry experts in China raised concerns of a possible risk to China's largest social networking site.
They are worried that as initial euphoria fades, investor expectations could be hit by a slowdown in the company's growth rate, fierce competition and uncertainty in the regulatory environment.
"The growth of Renren in recent quarters has been slow, or flat actually," said Duncan Clark, chairman of the consultancy, BDA China Ltd.
He added that investors simplify things by relating the US websites to the Chinese versions, "but sometimes they are wrong".
Dubbed the Chinese version of Facebook, the world's biggest social networking site, Renren rose as high as $24 from its issue price of $14 a share on Wednesday. The shares closed at $18.0.
Investor confidence was based on the prospects for China's booming Internet market and Renren's similarity to Facebook, which was valued at $65 billion by institutional investors at the end of March, according to figures from Nyppex, a private share-trading market.
Dong Xu, an analyst with domestic research company Analysys International, said it is hard to make a direct comparison between Renren and Facebook, as the two companies have differences in revenue scale and business models.
According to Renren, about 42 percent of the company's revenues come from advertising, while the rest comes from value-added services, mainly Web-based games. As much as 93 percent of Facebook's revenue, however, comes from advertising, according to figures from the market research firm, eMarketer.
"Games are a quick revenue generator for Renren, but they also bring risks, because it isn't certain that a company can keep producing new games that interest users," said Dong.
She said once rivals, such as Kaixin001.com and Tencent Holdings Ltd's Pengyou.com, catch up, then it will be hard for the company to maintain robust growth in coming years.
Pengyou has seen its users exceed 100 million within three months of its launch, thanks to Tencent's large user base. The number of daily unique visitors also surpassed that of Renren and Kaixin001 in March, according to Google Trends.
According to Renren's filing, its revenue in 2010 was $76.5 million, up from $46.7 million a year earlier, but its growth rate slowed to 64 percent from more than 200 percent in the previous year. It reported revenue of $20.6 million in the first quarter of 2011, down from $20.9 million in the fourth quarter of last year.
Renren was not available for comment on Thursday.
According to figures from Analysys International, Renren took 25.1 percent of the total active accounts in the social networking sites in China, followed by Kaixin001 with 19.4 percent and Pengyou with 18.1 percent.
"US investors usually think the first one to go public will have the first-move advantage, but in China, things are different. Those who access the capital market later also have a chance to become a dominant player," said Hans Tung, a partner at Qiming Venture Partners, which has invested in Kaixin001.
Kaixin001 is also planning an initial public offering in the US.
China Daily
(China Daily 05/06/2011 page13)