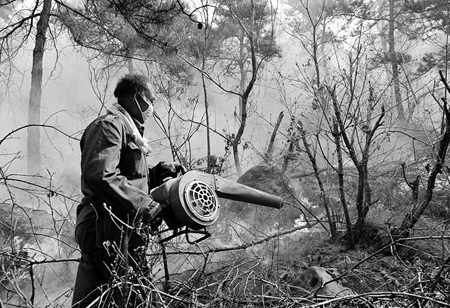 A resident of Funing county, Hebei province, uses a fire extinguisher to put out a blaze on Wednesday. Yang Shirao / Xinhua
BEIJING - A forest fire that broke out midday on Tuesday and engulfed more than 267 hectares of forest in North China's Hebei province had been brought under control by Wednesday morning, said local forest fire authorities.
The blaze broke near the border between Qinhuangdao city's Funing county and Qinglong county, according to a statement released by the local fire control center.
More than 7,550 police officers, soldiers and firefighters battled the blaze. Four helicopters were also used to dump water on the fire.
No casualties have been reported and the relocation of nearby villagers is under way, the statement said.
Vice-Premier Hui Liangyu has requested that local authorities draft a feasible plan to put out the forest fire as soon as possible, said local officials.
Hui also stressed that it's paramount to ensure the safety of firefighters and reduce economic loss.
Hebei Governor Chen Quanguo rushed to the scene on Tuesday night.
High temperatures, strong winds and complex terrain hindered the firefighters' efforts, officials said.
The cause of the fire is still under investigation.
Funing is located 262 kilometers northeast of Beijing.
The country's forests are at a high risk from fire because of dry air and warm daily temperatures.
The high fire risk was elevated during the traditional Tomb Sweeping Festival on April 5, which is a popular time for Chinese people to burn paper offerings for their deceased relatives.
An estimated 113 forest fire accidents were reported in Guangzhou city, capital of South China's Guangdong province, on April 9 and April 10.
The city has announced a red alert for the forest fire risk, Guangzhou-based Nanfang Daily reported on Wednesday.
China Daily
(China Daily 04/14/2011 page5)