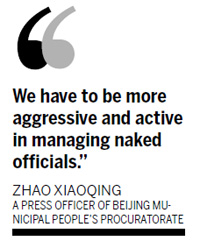 BEIJING - "Naked officials" - the name given to public servants whose spouses have taken up residence abroad and who are suspected to be more prone to corruption - will soon be subject to more scrutiny, according to a senior discipline official.
Speaking at a meeting on Monday, Zhang Xiaoying, head of the Party discipline inspection commission of the Beijing Municipal People's Procuratorate, announced an approaching campaign to "monitor and correct officials' conduct". His remarks were primarily aimed at the city's prosecutors.
Naked officials are believed to have a greater tendency toward corruption because the presence of their spouses overseas makes it convenient for them to funnel bribe money and other ill-gotten gains out of the reach of local authorities. If caught in their misdeeds, such officials also have an easy means of escape: they simply take up residence with their spouses abroad.
Zhang said the measures announced on Monday will also be part of an attempt at preventing prosecutors' spouses or children from running commercial businesses or receiving dividends from stock in private companies. The procuratorate also said its officials, especially senior prosecutors, should not accept gifts from their subordinates, or gifts and other favors that may interfere with the just enforcement of the law.
Zhang did not go into detail about how the anti-corruption campaign will be carried out.
The central government and the General Office of the Central Committee of the Communist Party of China issued a regulation last May calling on "naked officials" to draw up reports about their emigrated family members in 60 days or be prepared for punishment.
In recent years, reports have grown increasingly common of corrupt Chinese officeholders and their families fleeing the country after amassing huge amounts of money. Many naked officials are believed to have sought shelter in rich countries that do not have extradition treaties with China.
"We have to be more aggressive and active in managing naked officials," Zhao Xiaoqing, a press officer of Beijing Municipal People's Procuratorate, told China Daily on Tuesday.
Zhao said the Central Commission for Discipline Inspection of the Communist Party of China directed the procuratorate and other related authorities to participate in the campaign.
In a recent trial that saw the largest charges of embezzlement ever brought before Beijing courts - involving 580 million yuan ($88 million) - Dong Yuejin, a 'naked' official and former assistant to the general manager of China International Telecommunication Construction Corporation, was convicted of channeling bribe money to his wife overseas.
China Daily
(China Daily 02/16/2011 page4)