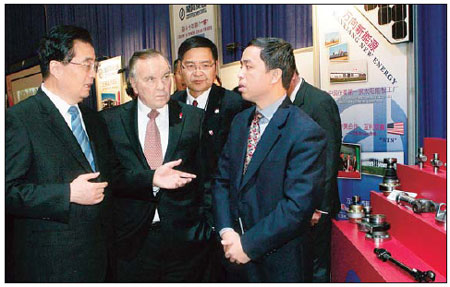 President Hu Jintao fields a question while Chicago Mayor Richard M. Daley (center) looks on as they made the rounds of the US Midwest enterprises exhibition on Friday. Frank Polich / Reuters
Chicago - Chinese President Hu Jintao on Friday visited an exhibition of companies operating in the Midwest United States .
During the visit, Hu encouraged Chinese companies in the US to play a bigger role in promoting economic and trade cooperation between the two countries.
Hu took the opportunity to urge a more level playing ground for Chinese enterprises investing in the US.
Most companies present at the exhibition, which was held in Chicago's suburban city of Woodridge, were Chinese-funded ones, including Wanxiang America Corporation, Huawei Technologies, and BYD Company Ltd. A. Finkl & Sons, the Chicago-based steel company was also at the exhibition.
"Finkl is a great example of a mid-sized company that has been able to expand due in part to its collaboration with China.
And they have done a great job infusing innovation and technology into their operations, which has enabled them to be successful with efficiency and sustainability," said Chicago Mayor Richard M. Daley, who accompanied Hu to the exhibition.
Daley said "our long-range goal is to make Chicago the most China-friendly city in the US".
There are some 300 Chicago-based companies in China, including household names such as Motorola and Boeing.
The Chicago area also hosts more than 40 Chinese companies.
According to Li Xiaojing, chairman of the US China General Commerce Chamber, the operation of these Chinese-funded companies not only yielded profit for themselves but added momentum to economic development in the Midwest with economic gain and by providing nearly 50,000 jobs in recent years.
"The success of Chinese companies in the United States is a specific example of mutually beneficial China-US cooperation," Hu said.
China Daily
(China Daily 01/23/2011 page3)