Steeplechase champion suspended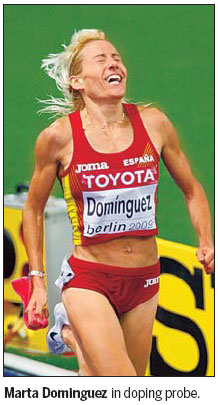 MADRID - World steeplechase champion Marta Dominguez has been suspended from her post as a vice president of the Spanish athletics federation (RFEA) after she was implicated in a doping probe, the RFEA said on Friday.
The federation published a letter sent to Dominguez by President Jose Maria Odriozola in which he informed her of the decision to provisionally suspend her after her home was raided on Thursday and she was temporarily taken into custody.
"Given the events of yesterday relating to an alleged doping scheme in which you were implicated ... I have decided to provisionally suspend your term as vice president of the Royal Spanish Athletics Federation," Odriozola wrote.

Today's Top News
Editor's picks
Most Viewed