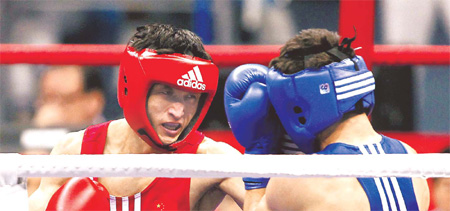 Light-flyweight Zou Shiming, China's 2008 Beijing Olympic winner, competes with Birzhan Zhakypov of Kazakhstan in the 46-49kg boxing final on Friday. Zou won the final. Zou Zhongpin / China Daily

Olympic boxing star to delay dream of turning pro until after London 2012
FOSHAN, Guangdong province - China's Zou Shiming said he is determined to turn professional after defending his 46kg title at the 2012 London Olympics.
"The Olympic gold medal is my goal, the gold belt is my dream," said Zou after he defended his title at the Asian Games by defeating Kazakh Birzhan Zhakypov 9-5 on Friday.
"I achieved my goal at the Beijing Games and now my country needs me to do it again in London. However, after that, I will definitely chase my dream in professional boxing," said the 29-year-old.
After winning the first Olympic boxing gold medal for China at the Beijing Games, Zou expressed his desire to turn pro, but deferred it due to his loyalty to the team.
As China's most celebrated boxer, Zou enjoyed most of the spotlight in the Foshan Gymnasium during the Asian Games. Thousands of spectators shouted his name while a few fans battled for the national flag he threw into the stands after winning the gold medal.
However, the fearsome boxer in the ring appeared quite humble when asked to compare himself to China's Olympic and world champion hurdler Liu Xiang.
"I think Liu Xiang's popularity is far beyond mine in China," said Zou.
"It is mainly due to the different popularity of the sports we take part in. That's another reason why I want to become a professional boxer. It will also better display the skills of Chinese boxers on the world stage and promote the sport here."
The Guizhou native first hit the headlines by winning a bronze medal at the 2004 Athens Olympics - becoming the first Chinese boxer to stand on the Olympic podium.
He won his first world title at the 2005 World Championships in China and then defended the title two years later in Chicago.
In 2008, he won the first Olympic gold medal for China, while teammate Zhang Xiaoping won the 81kg class in Beijing.
At the Guangzhou Asiad, China won two gold medals and three silver in men's boxing and swept all three gold medals on offer on the women's side.
Zou said he is happy to see the Chinese team growing in strength, which he says takes a lot of pressure off him.
"In the past, I felt like I shouldered all the expectations alone. I had to be the first to do this and do that. However, Chinese boxers have improved very fast in recent years and I feel much less stressed," he said.
Besides defending his Olympic crown and turning pro, Zou said there was an even tougher task on the horizon - getting his long-time girlfriend and CCTV presenter, Ran Yingying, to accept his marriage proposal.
"I will have a try when I get back home after the Asiad. But I am not sure. I bet she won't say yes easily. I think it will be even harder than winning an Olympic gold medal," he said.
China Daily
(China Daily 11/27/2010)