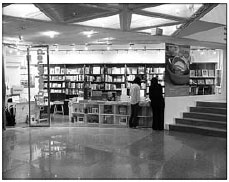 The Bookshop at the Hong Kong Arts Center. Rebecca Lo / China Daily
Hong Kong
Hong Kong has a long-established reputation as a book lovers' paradise. If you take a look at the inside jacket of your favorite glossy coffee-table book, you will probably find it was printed in Hong Kong.
Mary Chan is an old hand when it comes to the media industry. She founded MCCM Creations in 2001 to give local writers, artists and designers a voice. Her specialties are children's book and design publications such as Hotel as Home by Hong Kong architect Gary Chang.
Collaboration is the key to her success, and she participates regularly in international book fairs to get the word out. In addition, she operates The Bookshop at the Hong Kong Arts Center and hosts a number of readings and book launches that highlight her authors throughout the year.
Englishman and occasional television villain Pete Spurrier first came to Hong Kong while backpacking along the Silk Road in 1993 - and he is still here. In 2004, he established Blacksmith Books and publishes a wide variety of both fiction and non-fiction titles, including the colorful series of Hong Kong illustrations Sketches by Lorette Roberts.
Spurrier also does not shy away from controversial topics, with titles such as Whispers and Moans, an expose on Hong Kong's prostitution houses by investigative journalist Yeeshan Yang that was adapted into film by Herman Yau.
Singaporean Joey Ho's day job is an architect. He runs Joey Ho Designs in Hong Kong, with numerous restaurants across Asia to his credit. Bookworms will know him better as the proprietor of Basheer Design Books, a little haven in the heart of Causeway Bay where they can cozy up with the latest issue of Wallpaper or Domus.
Basheer prides itself on hosting community events and jumpstarting local talent. It also has a branch in Mong Kok's Langham Place - where you can also enjoy La Dolce gelato as you browse.
Speaking of Wallpaper, this summer its founder, London-based Tyler Brl, launched a Hong Kong branch of the hip international lifestyle magazine Monocle. Fans of the magazine can snap up the latest issue while checking out the variety of collaborated products such as notebooks, posters and other designer items.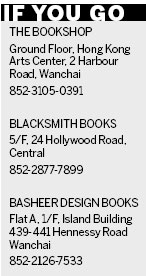 (China Daily 11/07/2010 page15)