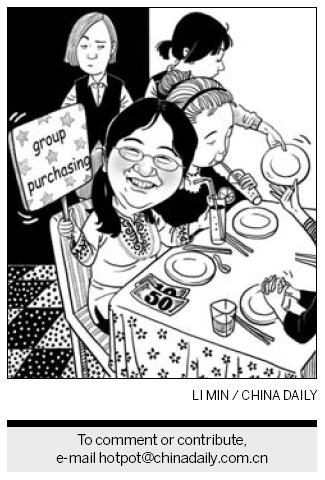 "Could we have another set of plates?" I asked. One of the two waiters who had been lingering near the counter chatting about vacation plans finally brought us the plate, without saying a word or offering even the hint of a smile.
Tuangou - group purchasing websites that offer discounts to buy products, services and meals - are currently popular because you get a great deal, but there is a flip side to the experience: In reality, the service can be less than spectacular and the experience more expensive than expected.
On another occasion, at one of the Russian restaurants by the north gate of Ritan Park, we were cold-shouldered by the waiters, who refused to give us a better table and told us the Russian soft drinks on the menu had sold out.
Their attitude was understandable. They rely on tips and clearly the frugal online customers from tuangou websites who spend just 60 yuan ($9) on a meal priced at 300 yuan ($45) are not going to be great tippers.
The beef, mutton and pork were fine - so were the brownie and tiramisu - but it's a place I wouldn't fancy returning to.
The lesson learned was to put on a cold face and enjoy your meal even if the wait staff shoot daggers at you and your closely shut purse.
At a Yunnan hot pot restaurant, we had a different kind of experience. All the doormen and wait staff were enthusiastic and the service was good. We loved the mushroom soup with bean curd, mutton and beef. But I just couldn't help feeling they were eager to see us finish quickly so another, better paying, set of customers could take our place.
I heard that customers could ask the wait staff to clean their shoes and massage their shoulders, but we never had time to try the services. Again, this is quite understandable, as some 10,000 netizens snapped up the order in three days.
So, we learned, go to a popular tuangou offer restaurant as soon as possible and eat as quickly as possible.
Another lesson was there is a deadline for each purchase, so you can end up having to going to three restaurants, a beauty parlor, a spa and dental clinic, all in one day, for example, before the discount expires. Not as pleasant as it sounds.
Beidaihe, one of the country's oldest coastal summer resorts, offered us another interesting experience during the National Day Golden Week holiday.
We booked a hotel room for just 70 yuan ($10.54) - unimaginable during Beidaihe's peak tourist season from May to September. The room was fine, the quilts dry and the water kettle worked. We even caught a glimpse of the sparkling sea from the balcony.
Unlike 16 years ago, when I first visited Beidaihe, everything has a price nowadays. Most of the beach is fenced in, and a one-hour boat ride costs 200 yuan.
The owner of the beach chairs seemed displeased as we reclined on picnic blankets, laughing, as our son played with another tourist's golden retriever.
So, the final lesson was, even though it's a shame we have to live in such a commercialized society, we still have the choice to retain a place in our hearts for a patch of sky and ocean free of the odor of money.
China Daily
(China Daily 10/21/2010 page20)