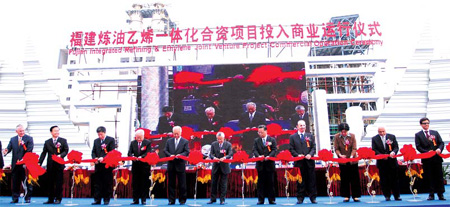 The FREP began commercial operations in November 2009.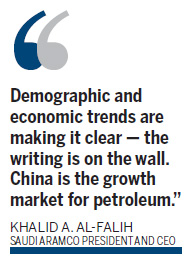 2010 has been a year of outstanding milestones in the bilateral relationship between China and the Kingdom of Saudi Arabia.
This summer, the two countries celebrated 20 years of diplomatic relations.
Saudi Arabia's pavilion has been one of the top draws at the Shanghai World Expo with its distinctive moon boat design and one of the world's largest movie screens.
China and Saudi Arabia conducted the fourth meeting of the Joint Committee on Economy and Trade this year, agreeing that bilateral trade will surpass $60 billion annually by 2015.
Energy cooperation
Saudi Aramco is a national petroleum enterprise and the world's largest crude oil exporter. It has long been a major player on the global petroleum stage, as well as the number one provider of crude oil to China.
2010 has paved the way for even closer ties and enhanced cooperation in the field of energy.
Earlier this year and for the first time in history, China surpassed the United States as the single largest market for Saudi Aramco's crude oil exports.
Now, on any given day, roughly a million barrels of Saudi crude oil reach China, accounting for more than a fifth of all oil imports.
This figure has more than doubled in just five years - a testament to both China's continued economic growth and Saudi Aramco's capability as a global provider of reliable petroleum supplies.
And the company's oil exports to China are set to increase, said Saudi Aramco President and CEO Khalid A. Al-Falih.
"We believe this is a long-term transition," he said earlier this year. "Demographic and economic trends are making it clear - the writing is on the wall. China is the growth market for petroleum."
JVs in Fujian
Saudi Aramco is also pioneering joint ventures in Fujian province - the Fujian Refining and Ethylene Project (FREP) and Sinopec SenMei Petroleum Company Limited.
2010 marks the first complete year of commercial operations for the two joint ventures, engaged in refining, petrochemicals and retail distribution.
The ventures contribute significantly to the continued economic and social development of Fujian province.
FREP marked its formal launch with a gala ceremony last November. The project is China's first integrated refining and petrochemicals venture with foreign participation.
In addition to refined petroleum products such as petrol, light diesel oil, jet fuel and liquefied petroleum gas (LPG), FREP produces a range of high quality petrochemicals.
Products include polyethylene, polypropylene, propylene, paraxylene, butane, industrial benzene and butadiene.
As the biggest refined products supplier in Fujian, Sinopec SenMei operates about 750 retail service stations and 18 product distribution terminals across the province.
Bond with China
Saudi Aramco's board of directors met in China for the first time this year.
They noted that their gathering - along with World Expo events taking place in Shanghai - was a signal of the continually growing importance of the Chinese market to Aramco.
Saudi Petroleum Ltd, a Saudi Aramco affiliate company that provides sales and marketing support services, opened its Beijing office a dozen years ago. At that time, Chinese crude oil imports were still negligible.
Another affiliate, the Aramco Overseas Company, opened its Hong Kong offices in 2000 and its Shanghai offices in 2006.
Such a growing corporate presence marks the continued development of Saudi Aramco's collaborative relationships in China.
The enterprise began with crude oil trade, expanded to downstream joint ventures, and then embraced a host of other activities.
Saudi Aramco has fulfilled its core mission to be a reliable supplier of petroleum energy in one of the world's fastest growing economies.
The company is strongly committed to downstream partnerships in Fujian province.
Aramco sources a growing range of goods, including specialized equipment, high-tech tools and vital industrial services.
A number of Saudi Arabia's drilling rigs are owned and operated by Chinese companies contracted by Aramco.
Through an overseas company affiliate office in Shanghai, the enterprise is working with several new Chinese suppliers and service providers.
Such partnerships promise to be a significant growth area, providing mutual benefits to Saudi Aramco and its Chinese suppliers and contractors.
Support for education
Yet another facet of Saudi Aramco's engagement with China is higher education.
For over a decade, Saudi Aramco has awarded scholarships to some of the best and brightest young people in Saudi Arabia, allowing them to study at Chinese universities.
In China, students can learn not only a professional discipline - like engineering or finance - but also gain firsthand knowledge of Chinese language, culture and society.
And Aramco hopes its sponsored youth will develop strong and lasting bonds with the Chinese people themselves.
Many former scholarship recipients are now hard at work in Saudi Aramco and its affiliates in China.
The new workers continue to build bridges of cooperation and understanding between the two countries.
The company has now signed a memorandum of understanding with several leading Chinese mainland and Hong Kong universities to engage in joint research studies.
As Saudi Arabia celebrates its national day, there is an opportunity to take pride not only in the continued development and sustained prosperity of the kingdom itself, but also in the cooperative and mutually beneficial relationships it has with other nations.
2010 will long be remembered as a year of milestones in China - Saudi Arabia relations, especially in the sphere of energy.
There is the promise of even greater benefits from close partnership in the years and decades to come.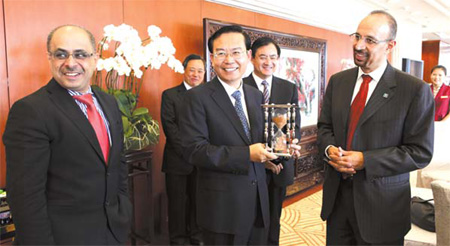 Khalid Al-Falih (right), CEO and president of Saudi Aramco presents gift to Su Shulin, chairman of SINOPEC Group, on September 19. Photos Provided to China Daily
(China Daily 09/23/2010 page7)