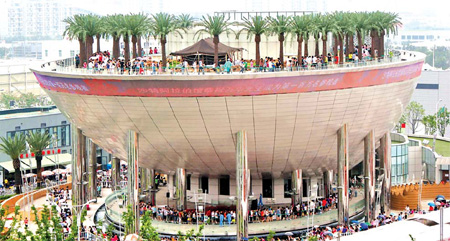 The Saudi-Arabian Pavilion at the Shanghai Expo recieves around 25,000 people each day. Photo by Jing Wei / for China Daily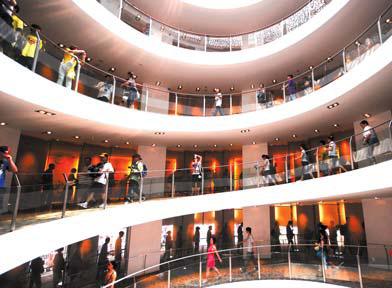 Visitors view cinema screens while walking through the Saudi Arabia Pavilion. Photo by Niu Yixin / for China Daily
Saudi Arabia's pavilion at the Shanghai World Expo doesn't fail to attract crowds.
"We designed the pavilion and its content to be easily understandable for all visitors. But we did not imagine that it would become so popular," said Abdulrahman Al. Shaikh, the pavilion's commissioner general.
He added that those who wish to view the structure may have to stand in line for up to eight hours.
The boat-shaped pavilion reportedly cost $146 million, though the figure was denied by Shaikh, according to Xinhua News Agency.
"I can assure you that it's not the most expensive at the Expo. The actual cost is very much below the numbers I read in the newspaper," he said.
Visitors to the structure are directed onto a circular ramp, enclosed by a 1,600 sq m cinema screen. During a 15 minute ride along a moving walkway, guests view images of the country's scenery and culture.
At the end of the flick, visitors find themselves on the rooftop, where they can enjoy views of the Expo Garden.
Some three million people have visited the pavilion so far. Though the structure was designed to receive up to 30,000 visitors a day, only about 25,000 have the chance to make it through its doors.
"We want people to enjoy their journey in our pavilion, so that is why we try to maintain a daily average of 20,000 to 25,000," said Shaikh.
An easy access entrance is available to a limited number of senior citizens each day.
(China Daily 09/23/2010 page6)