LeTV has become a popular employer among youth in China. Photos provided to China Daily
Six years ago, LeTV.com only had a dozen staff members. Now, the network video company is one of China's largest private enterprises.
Based in Zhongguancun Haidian Science Park (HSP), LeTV.com provides subscribers with a wide range of online videos and games.
Liu Hong, the COO and vice chairman of LeTV.com, said HSP has been crucial to his company's success.
"The HSP is known as China's Silicon Valley. It offers a range of preferential polices for startup companies and its aggregate effects also create a good environment for innovation."
Liu continued, noting, "With the aid of HSP, we were successfully granted loans in 2009 with a total value of 25 million yuan, which has highly contributed to the company's development."
The COO also attributed LeTV.com's growth to its digital copyright strategy.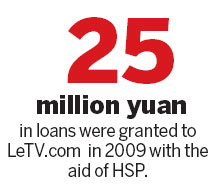 "All of our online videos are legally authorized so we never get caught up in troubles like piracy or infringement, " he said.
Liu's company has more than 40,000 television episodes and 3,000 films. LeTV.com has excusive digital copyrights to 300 of the pieces.
"This gives us a huge competitive advantage," said Liu.
He explained the enterprise bought several digital copyrights when it was first founded.
"At that time, they were fairly inexpensive, because people hadn't yet realized their value."
Liu also cited LeTV.com's high-definition (HD) online video channel as a major source of corporate growth. Visitors to the site must pay to watch their favorite flicks in HD.
"We concentrated our efforts on the company's persistent existence rather than on the number of web page visits we received," said Liu, commenting on the site's business model.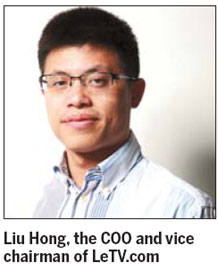 "We had 300,000 paying customers at the end of 2009, and that number continues to increase. The profit they brought accounted for nearly 60 percent of our annual income last year," Liu reported.
Advertising sales surpassed 36 million yuan in 2009, one quarter of LeTV's annual revenue. The company also profits from exclusive digital copyright distribution and online game agreements.
3G cell phones and high-definition television users are the next major targets, said Liu.
LeTV.com has already established partnerships with China Mobile, China Unicom and China Telecom to launch mobile phone networks.
The company will also release a high-definition media player this year. The digital device links televisions and the Internet, allowing users to browse LeTV.com on their TV screens.
"The resolution of DVD players can no longer meet the requirements of high-definition televisions. Our product can. Therefore, I'm quite optimistic about its future demand," Liu said.
LeTV.com is now the first listed network video company in China.
(China Daily 09/15/2010)