Experts recommend more railways to permanently solve congestion woes
BEIJING - About 10,000 trucks were backed up for miles on a northern China highway on Friday, the latest in a series of monster jams that have plagued the overloaded road since maintenance work began on a parallel route earlier this summer.
Trucks loaded high with coal from Inner Mongolia inched along bumper-to-bumper on the Beijing-Tibet highway as police redirected traffic and reminded drivers to stay alert, an official with Jining traffic police in Inner Mongolia said on Friday.
State television broadcaster China Central Television (CCTV) reported that about 10,000 trucks were stuck in the jam for at least 120 kilometers on Friday, turning a stretch of road connecting the coal-rich city of Erdos to Jining in Inner Mongolia into a virtual parking lot.
The latest snarl-up has lasted for more than 20 days off and on.
Poor road design and insufficient traffic management were blamed, the Beijing News reported on Friday.
Referring to recent traffic jams on highways, an insider from Beijing Traffic Management Bureau explained that four highways - Beijing-Tibet highway, National Highway 110, Xiguan road and Beijing-Xinjiang highway - all converging into the last one creates huge transportation pressure and causes congestion, the report said.
The booming coal industry in Inner Mongolia also means the more frequent use of highways to send out this "black gold" to fuel the economic development of the rest of China.
In the first half of 2010, the output of raw coal in Inner Mongolia reached about 338 million tons, up 18.7 percent over the same period last year.
The jams have already affected the incomes of truck drivers who have been trapped on the highway, according to reports on CCTV.
A driver surnamed Liu, who delivers coal from Shijiazhuang to Beijing, complained that he could barely earn 3,000 yuan ($441) a month thanks to the increased traffic jams, which is 2,000 yuan less than before. In addition, he could neither eat nor sleep well being stranded on the roads for days.
In about half a month, the expressway has experienced at least three traffic jams.
The first long jam, which started on Aug 14, lasted nine days and trapped thousands of vehicles in a gridlock that extended for more than 100 km. That jam was caused by road maintenance work and an exceptionally large number of heavy trucks on the road.
Then after four days of smooth traffic, a monster traffic jam soon snaked back 30 km, bringing traffic to a standstill on the same highway.
Many local merchants capitalized on the stranded drivers' predicament by offering food and drink for inflated prices. Local media reported that some even offered to show drivers a way around the traffic jam on the back roads - for a 50-yuan fee.
A maintenance project began in the middle of August on a section of National Highway 110, a highway that is parallel to the Beijing-Tibet highway. Work is scheduled to be finished in mid-September, at which time, the traffic should be lessened.
Professor Ou Guoli of the School of Economics and Management at Beijing Jiaotong University, said there is no short-term solution for the traffic jam.
To solve the problem permanently, the country's industrial structure and transportation structure should be adjusted, said Ou.
"Now the country's economy is heavily dependent on coal, and the supply chain of coal is overloaded. Adjusting the industrial structure will make the consumption of coal more reasonable."
As for the transportation structure, Ou pointed out that railway is the first choice for transporting raw materials such as coal. Trains have a much larger capacity and can carry the coal more cheaply than trucks on highways.
If more railways are built, then the coal will not have to be shipped on expressways, said Ou.
China Daily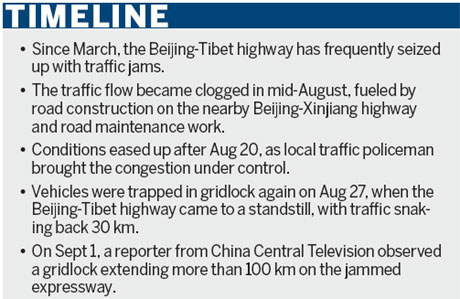 (China Daily 09/04/2010 page3)