Allegations of widespread cheating and complicity from teachers during Beijing Open University (BJOU) final exams have been reported in Beijing News.
Without giving the specific number of people involved, a reporter who went undercover and pretended to be a test-taker, said nearly every student in nearly every classroom taking part in the finals in one location took notes into the examination, which is against the rules.
The reporter said the cheating involved hundreds of people.
The story also reported that test-takers contacted others on mobile phones, which is also against the rules.
More than 600 students reportedly took the exams between July 2 and July 10.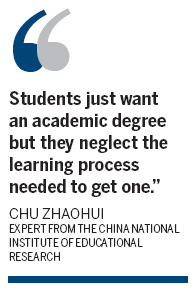 The situation described in the article was what the reporter claimed to have seen at one of the BJOU's training centers - at Beijing No 4 Middle School. The BJOU has a total of 53 such branches in districts and rural areas of the city.
The reporter said teachers did not stop the cheating even though many students were openly referring to their notes.
And the article claimed most of those supervising the test were from BJOU but said some did not have teaching backgrounds but were relatives of people in authority at the training centers who were paid 60 yuan a day to supervise the tests.
Some "teachers" told Beijing News they would alert students when non-BJOU teachers approached because they were in charge of patrolling the classrooms and enforcing the rules.
Founded in 1960, BJOU sells itself as an institution dedicated to distance learning through radio, television, computers, textbooks and audio-video materials.
In the 1980s and 1990s, universities such as the BJOU offered one of the best ways to cultivating talent, educating on-the-job staff and training workers with vocational skills.
"Such a situation has never happened before," an unnamed official with the university insisted, according to the paper.
And senior staff members pledged to severely punish those who cheated and teachers involved, following an internal inquiry.
A man from BJOU told METRO on Sunday afternoon he could not release more information because the authorities were still hold meetings discussing the issue. But he emphasized that the cheating was an isolated case.
The Beijing Municipal Commission of Education is also involved in the investigation and an official response is expected on Monday, Beijing News reported.
The news triggered hot discussion on the Internet.
Nearly 3,000 Netizens commented after the story was uploaded onto sina.com, one of the largest news portals in China, on Sunday.
"The phenomenon not only exists at BJOU but is a tumor on nearly all Chinese educational institutions," an anonymous netizen wrote. The view was widespread online.
Experts said adult education will improve when the degree-oriented system is abandoned.
"Students just want an academic degree but they neglect the learning process needed to get one. But getting a degree by any means is worthless," said Chu Zhaohui, an expert from the China National Institute of Educational Research.
China Daily
(China Daily 07/12/2010 page27)