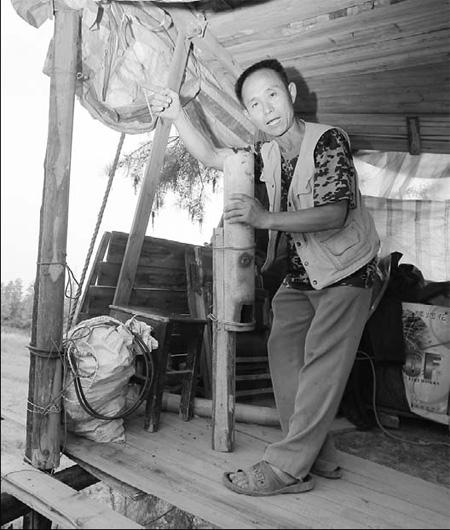 Yang Deyou displays his improvised rocket in a wooden booth built above the roof of his house in suburban Wuhan, Hubei province, in this June 6 photo. Provided to China Daily
WUHAN - A farmer who made headlines for firing improvised rockets to repel demolition teams may become the most successful "nail household" in the country, as his five-month fight has reportedly secured a compensation deal worth over 750,000 yuan ($110,700).
Since February, Yang Youde, a 56-year-old farmer living on the outskirts of Wuhan, capital of Central China's Hubei province, has twice fired rocket-like weapons at demolition teams trying to evict him from his property to make way for commercial redevelopment.
Yang told China Daily on Thursday that local officials had consulted with him "fairly" since his elder brother, who helped Yang guard the land, was attacked and severely injured on June 29, which intensified the already fraught situation.
"Their attitudes were totally different and full of sincerity this time. It made me hopeful of being able to iron out our differences," he said.
After negotiations, a total of 166,400 yuan has already been given to him as compensation for his 25 mu (1.75 hectare) of land, as well as the fishpond and houses on it, Yang said.
"This morning I demolished the 8-meter-high tower I used to pile up the rockets and will soon move away," he said.
The total compensation package Yang is to receive is up to 761,000 yuan, according to Wang Youyin, a Beijing lawyer, who assisted him in taking the case to court.
"He was worried that he might be inviting trouble if his fellow villagers knew he won more compensation. After all, he has to continue to live there," he said.
Yang leased the land from the local government and his right of land use runs until 2029.
He felt he was forced to take extreme measures after the demolition teams harassed him a couple of times over his demand for 46,800 yuan per mu in compensation, almost five times the amount offered by the property developer.
Yang's case is not an isolated one. A number of other householders have similarly resorted to protecting their property rights as forced relocation by the government is considered legitimate in China, according to the existing law.
In March, a 92-year-old man and his 68-year-old son in Lianyungang, Jiangsu province, set themselves on fire to protect the family's pig farm from being demolished by the local government. In the end, the farm was torn down, the son died and the father suffered severe burns.
Pan Rong, from the Minhang district in Shanghai, threw self-made gasoline bombs at a demolition team to protest the forced demolition of her home in June 2009. The house was still torn down and her husband was imprisoned for eight months.
Wang Xixin, a law professor at Peking University, said the frequency of such incidents involving householders going to extremes to protect their homes demonstrates the urgent need for a new law to be drafted, which stipulates that forced demolitions are to be strictly supervised to safeguard the rights of property owners.
"Yang's success was only accidental and may not be repeated. Offering property owners more channels and rights to appeal is the correct way to resolve the problem," he said.
China Daily
(China Daily 07/09/2010 page5)