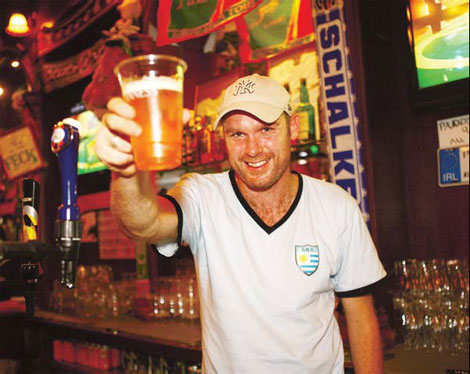 Karl Long, crowned as "best bartender" in Beijing, says he has a dream job. Zou Hong / China Daily
The universe might turn its focus to the World Cup every four years, but for some, football is a way of life. And to watch the sport all day is the dream of many diehard fans.
That's a dream that Karl Long, bartender and part owner of Paddy O'Shea's, has managed to achieve in Beijing. Long was recently voted "best bartender" by The Beijinger, a website for expats.
Long isn't so sure how he won the title, making a joke that he needs to still learn how to mix drinks, but he has a simple and straightforward philosophy when it comes to bartending: be the bartender you wish you had.
"It's very easy," said Long. "I was a drinker before I started bartending, so I knew what I wanted from one. I try to give the same things to my customers. It's all about being personable and friendly."
The title of "best bartender" is an honorable one considering that users of thebeijinger.com had a choice of over 500 bars listed on the site.
Paddy O'Shea's claims to be the only Irish-owned and Irish bar in Beijing and has built up quite a reputation for serious sports fans. Some may think it odd to have an Irish sports bar in the heart of China, but for this expat, it works. The most rewarding part of the job to Long is the chance to watch football and drink beer while getting paid.
When asked how long he will stay in Beijing, he answers, "as long as I can."
"I've been here eight years and it's better than Ireland. I'm here to experience new things. There's more to do here and opportunity is knocking."
Long says he plans to open more bars in Beijing.
Paddy O'Shea's has a reputation for being a serious sports bar. Referencing any memories of rowdy or unruly customers, Long admits he would love a story to tell. However, all in all, his patrons have been pretty good over the years.
"I hear a lot of stories of other bars where fights break out, but that doesn't really happen here. We're all about football and those who come here know what to expect."
"Most bars try to attract fans just because the World Cup is going on. Here they can watch football all year round."
Like every bar in Beijing, while the World Cup is on, Paddy O'Shea's is busy. Even during the METRO phone interview, Long was working hard to give customers what they wanted. Background noise consisted of sports fans anxiously awaiting the evening's World Cup games and Western music blasting over the sound system. It's easy to see how Beijing's best bartender can get aggravated.
But Long insists that's not the case and says it takes a lot to make him angry.
"It's hard to get me stressed," he said. "When I do, I wash glasses. It's great. I can take a break and see all the screens at the same time. Plus, I'm being productive."
Long is human and like all people, there are days he wishes he didn't have to work.
"When you're not in the mood and everyone wants to talk to you, it can be hard," he said. "But you still have to be nice to everyone. At the end of the day, you drink a beer and you're glad it's over."
Long isn't sure he will secure the title next year but says it doesn't really matter as long as his customers are happy and he can watch football. For any fan of sport, his is the ultimate dream.
China Daily
(China Daily 06/30/2010)