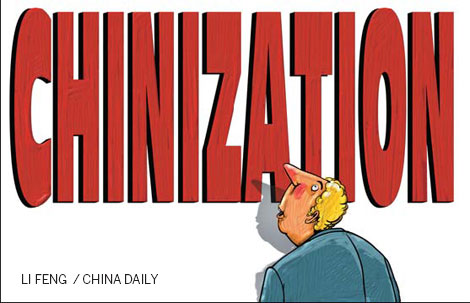 Chinization is not in the English dictionary yet but it's only a matter of time, possibly days. It's the big theme underlying the CHINICT tech conference that opens tomorrow in Beijing, says its president Franck Nazikian.
"The Chinization revolution is already taking place in terms of global tech," the Frenchman says. "The center used to be Silicon Valley but now it's moving to China.
"I have been criticized by a lot of people for believing this. They say, 'You are wrong, there's no innovation'. But I can tell you in a couple of years the word Chinization will be on everyone's lips as China is the new innovation powerhouse."
Nazikian, who fathered the CHINICT annual conference six years ago, is in a good vantage position to make such a bold pronouncement. Born and raised in the south of France he says he was "obsessed from an early age about knowing the world".

The telecom engineer with a bachelor's degree in business traveled to Latin America and was put in charge of a smart card multinational in Brazil. He was then sent to Silicon Valley in the United States to head up an investment fund. A year and a half later he quit, started a corporate search engine company and sold up at a fat profit to Oracle.
Instead of settling in the safety zone, he came to China to do some angel investing and start a fund, but realized he didn't have the understanding or connections.
He took some time off to research the market and founded CHINICT. He says the first edition was not a big success, so he worked on presenting the "correct vision of China", presenting a snapshot each year of the highest quality players, and making the format entertaining and inspiring.
"We have to speak not just to the intellect but also the emotions. This is more than just networking."
This year there will be 700 attendees, many of them tech VIPs - including Kaixin001 CEO Cheng Binghao, the head of BlackBerry China Greg Shea, and Aigo CEO Feng Jun - representing billions of dollars and the leading edge of geekdom.
There will also be a Tencent webcast for domestic audiences and worldwide live streaming by TechCrunch, which Nazikian is calling a "more important (media organization) than Bloomberg or CNN". Basically, the revolution will be televised.
For Nazikian, Chinese companies like Tencent and Lee Kaifu's Innovation Works are the new Microsofts and Googles and will shortly reverse the trend of tech originating in the West and being copied in the East.
As the man in charge of the largest annual conference on China tech entrepreneurship, Nazikian has a vested interest (literally) in such a vision, but he is not the only one on board, as the heavyweight attendees at this year's conference prove.
It is interesting to note that though there is no such word as Chinization in the English language yet, there is already a Chinese translation, which is "zhongguo hua", meaning the Chinese way of doing things.
My only reservation is: How is this different from Sinicization? Perhaps the conference will provide an answer.
(China Daily 05/26/2010 page18)