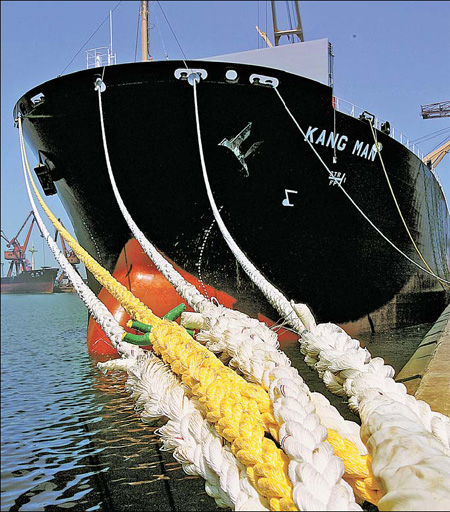 Sailing through industrial shift: Dalian has attracted many shipbuilers from around the world. Provided to China Daily
International shipbuilders see promising future in the coastal regions
Chung Jun-pyo never thought that someday he would work in China, but last year, the 55-year-old came from Seoul to Liaoning, a northeastern coastal province, to work as general manager of STX (Dalian) Shipbuilding and STX (Dalian) Heavy Industries.
"I like Liaoning. It has beautiful scenery and modern industries. Also the current coastal development strategy ensures the province has a bright future," Chung said.
South Korea's STX Group began to build a shipbuilding facility on Changxing Island in 2006 and was the first international company to invest in this area of Liaoning's coastal belt.
Now STX Dalian is one of the group's three main shipyards. The change of Chung's work location mirrors a shift in the global shipbuilding industry.
"It's inevitable that China will surpass South Korea to be the top shipbuilding nation. The industry is knowledge intensive, technology intensive and labor intensive. So as China's technology becomes more advanced but labor remains relatively cheap, then world shipbuilding shifts increasingly to China," says Liu Yindong, professor of Dalian Maritime University an expert in shipbuilding history.
In fact, this shift began in 2000. In the past decade, China's shipbuilding industry has been growing fast. Now, China has overtaken Japan to be second only to South Korea.
Local shipyards
As international shipbuilders come to China, this gives a boost to local shipyards.
The output of Dalian Shipbuilding Industry Co Ltd has grown steadily from 2000 to 2009.
Last year, the company delivered over 3 million deadweight tons and made a profit of 20 billion yuan. Its clients are from all over the world including Denmark, Sweden, Norway, the United States and Singapore.
There has also been an influx of private shipyard investors. Among them, Xu Julin from Hubei came to Liaoning and founded Liaoning Hongguan Shipbuilding Co Ltd in 2004. Within just five years, the company expanded its staff to more than 3,000 from 700 and produced nearly 500,000 deadweight tons from 100,000 deadweight tons in its first year.
"Bohai bay is the only undeveloped coastal area in the country, so it has great potential and many opportunities," Xu said. "The province also has many technical experts. That's very important. "
Increasing competition
Liaoning launched its coastal development strategy in 2005 and made shipbuilding a top priority. In order to promote the industry, the province founded three shipyards in Dalian, Huludao and Liaohe River estuary and established 10 supporting industrial areas along its coastal line.
Xu's company is located in Panjin, a key point in Liaoning's coastal strategy. In 2009, Panjin shipbuilding industrial park was included in national strategy. This upgrade meant that Xu's company benefited. "We got more support from the new state-level policy and supporting facilities, which can help my company prosper in the next 10 years."
Liaoning is one example of China's rising shipbuilding industry. The country launched the Shipbuilding Industry Restructuring and Revitalization Plan in early 2009, which aimed to reinvigorate the development of the industry.
In 2009, Chinese shipbuilders contracted new orders of 26 million deadweight tons, a 61.6 percent share of global new vessel orders. Despite this, China still has a way to go to match South Korea with regard to developing the domestic market, improving localization of the manufacture of corollary equipment and high value-added products.
According to Chosun Ilbo, Korea is always alert for competition from China. Many oversea enterprises swarm into China and compete with local companies by price-cutting, which puts pressure on Chinese companies.
Xu also feels the pressure of the price war. According to him, there is strong demand but little profit after the financial crisis. "Although we have new orders, the profit is as low as one or two percent."
According to Xu, before 2009, the company's products were exported to Southeast Asia, Europe and the United States. Following the worldwide economic turmoil the overseas market has shrunk. As a result, the company is now adjusting its strategy and has eyes on the domestic market.
(China Daily 05/18/2010 page12)