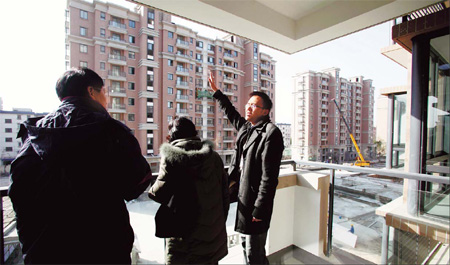 A salesman shows potential buyers around an apartment at the Lotus Riverside residential complex in Shanghai, where an almost complete tower fell to its side last June, killing a migrant worker. Gao Erqiang / China Daily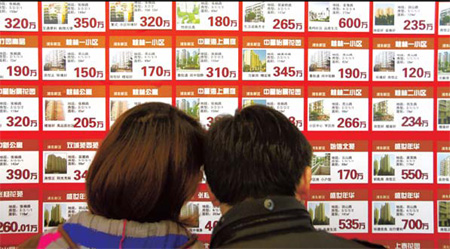 A young couple scan billboards carrying details on dozens of apartments at a housing fair in Shanghai. Getting on the property ladder is becoming increasingly difficult in China. Wang Xiaofei/for China Daily
Couples use loopholes in policies aimed at controlling house prices. He Na reports from Beijing
New policies to prevent property bubbles in China's major cities could lead to an increase in couples going through "divorces of convenience", analysts have warned.
To address the spike in housing prices, on April 17 the central government not only hiked interest rates for mortgages on second and third homes, but also stated that married couples will now be treated as a "family unit" when purchasing property.
The move means couples will have to pay substantially larger deposits and monthly installments, and experts believe this could spark a spate of "fake separations".
Banks have already seen cases of people divorcing before buying a new house and then hastily remarrying after the deal is finalized, according to reports on news website sina.com.
Li Min and her husband had already paid a deposit for an apartment in Nanjing, capital of Jiangsu province, when the policies were unveiled this month. She said they now plan to scrap the deal.
"The original 200,000 yuan ($29,000) down payment almost emptied our pockets. Under the new rules, we would have to pay out another 200,000 yuan more. How can we afford that?" said Li, who is in her early 30s. She and her husband already own a small apartment in the city.
She said the bank clerk said that, if Li is single, the second home regulations would not apply.
"I understood what she meant and, although it's an insult to love, I couldn't think of a better way if we still want the house," she said. "I'm sure many people are considering it."
Despite concerns over the loophole, overall it appears the policies have successfully tempered China's housing market.
Prices for most secondhand apartments in Beijing fell 10 percent this month, say analysts with Beijing Homelink Real Estate.
"As long as the new measures are strictly implemented, they will have an instantaneous effect on cracking down on house hoarding, speculation and high property prices," said Yi Xianrong, director of the financial development office under the Chinese Academy of Social Sciences' institute of finance and banking.
The nation's average house price is now 15 times the average income (in Shanghai, Beijing and Guangzhou it is 50 times higher), prompting fears of a serious property bubble.
Despite government efforts to curb the soaring costs, prices in 70 of China's largest cities rose 11.7 percent year on year in March, according to the National Bureau of Statistics, putting them at the highest level for five years.
"If the housing prices keep rising at such a large margin, the government may introduce tougher policies in May or June," predicted Weng Feiyu, a real estate analyst at Everbright Securities.
We ask homeowners and experts in China's biggest cities what first-time buyers today can get for 10,000 yuan per square meter. Reporting by He Na, Wang Ying, Zhang Xiaomin, Wang Qian and Zheng Caixiong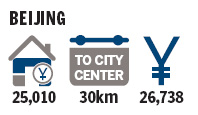 Although Qin Jianhua leaves for work before most people have even woken up, he is nearly always late. The roads between his apartment in Hebei province and his Beijing office are prone to lengthy traffic jams.
"One day, the bus I was on was trapped in a queue on the highway into Beijing for about two hours," said the 29-year-old researcher. "The journey usually takes one hour and 30 minutes. That day it took four hours."
Before he moved to Hebei, Qin's dream apartment was somewhere close to the China Coal Research Institute, the State-owned company where he works, which is based between the capital's second and third ring roads. When he began house hunting, however, it quickly became apparent he had no chance of finding such a place in his price range.
"With a monthly salary of 5,000 yuan ($730), prices in Beijing far exceed my purchasing power," he said. "It is almost impossible to buy a house for 10,000 yuan per square meter."
After months of searching, Qin finally found an apartment he could afford - in Yanjiao, a town 30 km from Tian'anmen Square, the de facto center of Beijing.
Although only the Chaobai River separates Yanjiao from the capital's Tongzhou district, property in Hebei is much cheaper. However, with the increase in demand, prices here are also beginning to soar.
Qin's home cost 4,300 yuan per square meter at the end of last year. Today, it is estimated to be worth almost twice as much.
"I don't like to live too far from the company but my current economic condition means I can only afford houses at this level. I have to be a Yanjiaoer," he said.
However, life in Yanjiao is not all bad, according to Ma Tianming, who moved to the town from Beijing in 2006. "Besides the lower property prices, the air here is very fresh and we get blue skies almost every day," he said.
After months of decoration, Wang Qing finally moved into his grand new apartment in early April. The property, which is in Jiuting on the outskirts of Shanghai, cost a cool 1.7 million yuan ($250,000), around 10,000 yuan per square meter.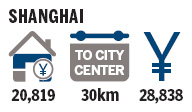 Thanks to a decade of savings, the 35-year-old was able to pay more than half of the price up front. However, the bank loan he took out for the rest means he and his new wife will need to pay back about 5,000 yuan every month for the next two decades.
"Some would say it is not worth being a 'house slave' but, despite the fact we are living in Shanghai's outskirts' outskirts, it is our home," said Wang, who bought the house last November.
As a marketing manager for a multinational company based in the city's Minhang district, Wang's salary is far higher than most, so the mortgage is not a major burden. His biggest concern is his daily three-hour commute to downtown.
The average house price in Shanghai hit 20,819 yuan per square meter in the first three months of this year, up 12.8 percent quarter on quarter.
"The only place you'll find apartments priced around 10,000 yuan per square meter in Shanghai is on the border, which is 30 km away from the center," said Xue Jianxiong, an analyst with China Real Estate Information Corp. "The infrastructure and facilities in these communities are not as good as those in downtown areas."
Apartments in traditional outskirts districts like Songjiang (which includes Jiuting), Fengxian and Nanhui are more than 10,000 yuan already, while prices in Jiading have risen to almost 20,000 yuan since a new subway station opened there recently.
However, with the city's average income of only 28,800 yuan last year, it means an average three-person family would have to save every penny they earn for 10 years just to buy a 50-square-meter apartment.
Gao Wuyanyan is relieved he decided to ditch his "wait-and-see attitude" last month. The 27-year-old ethnic Mongolian had been holding on for a price drop for two years before he rushed out to snap up an apartment in Dalian, a port city in Northeast China's Liaoning province.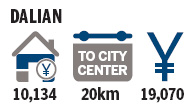 He paid 9,900 yuan ($150) per square meter for his new home, which is in a development still under construction. If he had waited just 30 days more, it would have cost him 11,000.
"Two years ago, I was sure the price would begin to fall, but even now I don't think we've seen the peak," said Gao, who works in Dubai for China Communications Construction Co Ltd.
Although one of China's so-called second-tier cities, the average house price in Dalian rose to 10,134 yuan per square meter in March, up 19 percent year on year, according to real-estate consultants Dalian Compass Plan and Marketing Co Ltd.
"I think the price will keep on rising, too," said Yuan Xiaoji, one of the company's analysts. "Young couples always try their best to buy a home for marriage, big or small."
Getting a mortgage is no problem for those people earning high salaries. However, the city's annual income was 19,093 yuan last year, according to the Dalian bureau of statistics, and analysts say it is common for parents to spend their life savings to buy homes for children earning low incomes.
"A monthly mortgage would lower the quality of my life but what can I do? Girls won't marry you if you don't have a house," said Lu Cheng, a 25-year-old neighbor of Gao.
It is now almost impossible to find a home for less than 10,000 yuan per square meter within a 20-km radius of Dalian's downtown, said Yuan.
"It will be very inconvenient to live in that apartment," said Gao, whose new area has few public facilities or bus services. "However, things will get better. At least a metro under construction will go up there."
As Xu Kailiang looked up at his 95-square-meter apartment from the street outside, his face broke into a wide grin.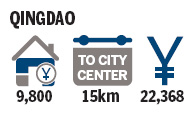 "My family paid 600,000 yuan ($88,000) for this property last June. Now it's worth 1 million," he said proudly.
The only problem is that the property is in the Laoshan district, which is more than an hour's drive from the downtown area of Qingdao, a coastal city in Shandong province.
"Generally speaking, I'm satisfied. The house has three rooms and a hall, and is in a decent residential environment that has plenty of amenities. Sadly, it is far away from the city center," said Xu, a salesman for a State-owned company.
With a shrug, he added: "Although it's inconvenient, I would rather live here. The houses in the center are too expensive. It is impossible for common people to afford them."
Qingdao saw its average house price rise by 8.1 percent year on year in March, with prices in the city's costal areas ranging from 30,000 to 60,000 yuan per square meter, according to official figures. Property in or near the center usually fetches about 25,000 yuan per square meter.
However, the average monthly wage is just 2,116 yuan.
"My house was bought by my parents for me before I get married in May. Although my fiancee and I earn more than 5,000 yuan a month, we can't afford the house by ourselves, so I'm very grateful to my parents," said Xu. "Many young couples have to rent to get married."
After searching for weeks to find a bigger apartment for his wife and their child, Yang Yaolong eventually settled on Luoxi New Town, which lies on the banks of the Pearl River.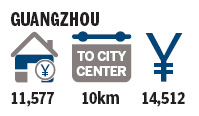 As the area boasts good transport links and a large supermarket, the three-bedroom apartment seemed an excellent value for 8,000 yuan ($1,200) per square meter. The only problem was it was 10 km from his workplace in the heart of Guangzhou, capital of Guangdong province.
"The environment of my housing estate is good and the air is fresh but it is far away from the downtown area," said Yang, 33, who works for China Mobile. "I usually have to spend more than an hour to get to my office most mornings."
Since Yang bought the house, prices in Luoxi - part of the city's Panyu district - have risen to more than 10,000 yuan per square meter, meaning his property is now worth a cool 1 million yuan.
Yang and his 30-year-old wife, Zhang Wenping, are now considering selling up and moving downtown as his residential area does not have a good primary school for their son.
"My son is 3 and I want him to go to a quality primary school when he is 6," said Yang, adding that, compared with mature communities downtown, many outlying suburban areas lack good schools and major hospitals.

(China Daily 04/27/2010 page6)