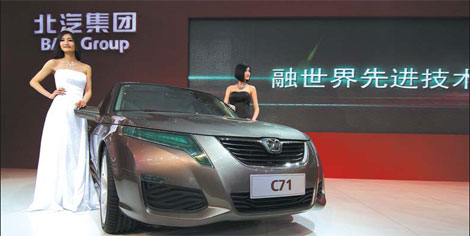 Models pose by a C71 of Beijing Automotive Industry Holdings Corporation at the Beijing auto show. [Song Fan / For China Daily]
BEIJING - Beijing Automotive Industry Holding Corp (BAIC), the Chinese partner of Daimler AG and Hyundai Motor Corp, plans to launch more than 20 passenger vehicle models under its own brand by 2014, mainly based on acquired core technologies from Swedish brand Saab.
The fifth-biggest Chinese auto group said during the Beijing auto show that its own-brand passenger vehicles will include a subcompact, compact, mid-sized and large-sized sedans as well as light and heavy-duty sports-utility vehicles (SUVs) and crossovers.
BAIC will roll out three models later this year, a B40 light-duty SUV, a C30 subcompact car and a J30 crossover, it said.
The company bought Saab 9-5 and 9-3 models as well as its engine technologies for $200 million last December. But it didn't buy the Saab brand, which was acquired by small Dutch automaker Spyker Cars NV in February.
BAIC's planned passenger vehicle models will be under its own badge Beijing. The Beijing marque was born in 1958, but abandoned soon afterwards.
According to executives from BAIC, the group aims to sell 100,000 own-brand passenger vehicles next year. By 2015, it plans to have an annual production capacity of 550,000 passenger vehicles and boost sales to 400,000 units.
Construction of a 150,000-unit plant for Beijing-brand passenger vehicles kicked off earlier this year in Beijing.
BAIC is also making inroads into China's burgeoning market for new-energy passenger vehicles.
Last November, it registered a branch focusing on research and development of new-energy vehicles, including purely electric cars, petrol-electric hybrid vehicles and other alternative energy vehicles.
It said it will begin small-volume production of new-energy vehicles later this year.
It aims to boost production of new-energy passenger vehicles to 150,000 units a year by 2015.
The group said its purely electric lineup will cover a range from low to high-end vehicles. Prices are estimated to be 10,000 to 90,000 yuan higher than the comparable models powered by conventional fuels.
With declining technology costs and government subsidies, purely electric vehicles have rosy market prospects, BAIC said.
The group now runs joint ventures with Daimler and Hyundai to make premium Mercedes-Benz cars and Hyundai-brand cars.
It is also making its own-brand Foton trucks.
In the first quarter of this year, BAIC's total sales jumped by 43.9 percent year-on-year to 360,000 units. Its first-quarter profits skyrocketed by 162.4 percent to 2.23 billion yuan.
The Group Chairman Xu Heyi said earlier that it planned to move a total of 1.24 million vehicles this year, up 60 percent from 2009.