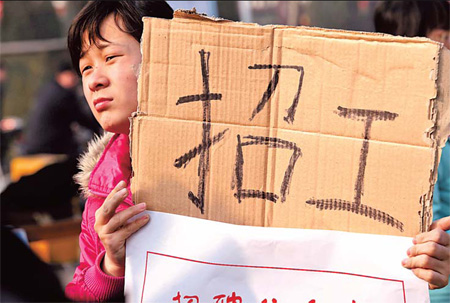 A recruiter from a furniture factory seeks experienced workers at a job fair held in Xuchang, Henan province, shortly after the Spring Festival holiday. Migrants are being paid 10 to 20 percent more than before thanks to a shortage of qualified workers. Niu Shupei/For China Daily
As a labor shortage grips China, companies must pay up or risk shutting down. Qiu Quanlin in Guangdong and Gao Changxin in Shanghai report.
In business, when demand far outweighs supply, it is always good news for the sellers - a fact that has not been lost on migrant workers amid the country's labor shortage.
When the financial crisis hit manufacturers in South and East China last year, it was the workforce that felt it most, with factories resorting to mass lay-offs and pay cuts just to stay afloat. Now, orders are starting to flood back in and employers are once again desperate for hands.
Following a sharp drop in the number of migrant laborers returning to the Pearl River and Yangtze River deltas after Spring Festival, however, competition for staff has become intense.
Experts say companies are being forced to raise salaries and offer extra benefits as workers look to cash in on a sellers' market.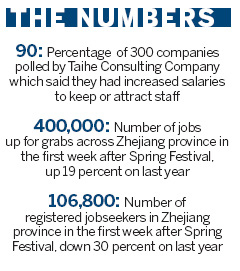 "Migrant workers are a lot more fussy than before," said He Suwei, chairman of Hangzhou Weibang Airflow Spinning Co in Zhejiang province. "They don't just talk money; they talk about working environments, holidays and other fringe benefits we have not even heard of before. Workers have more say than us now because they have a wider choice."
The textile factory, which lies on the outskirts of the provincial capital, Hangzhou, employs about 100 workers and has been doing roaring trade in the last several months as the nation continues to recover from the global economic meltdown.
He Suwei wants to recruit about 10 more people to meet the increased workload, but he is not alone. Many neighboring factories have also posted advertisements to entice staff with attractive benefits.
"We have no choice but to match all offers. Offering bigger salaries is a trend we must follow, otherwise we face huge losses due to late deliveries," said He.
Workers at the factory will each receive an extra 150 yuan ($20) in their March wage packet, pushing their salaries up to about 2,000 yuan a month - 40 percent higher than before the onset of the global recession, said He. The boss has also thrown in free lodging and lunch subsidies to sweeten the deal.
At nearby Hangzhou Maria Textile Co, a company with a 20-year history and more than 200 staff, owner Cao Yakun said about 10 percent of his employees - mostly skilled workers - did not return after the Lunar New Year holidays last month.
"I had no choice but to raise the salaries of my less experienced workers from 750 yuan a month to 960 yuan," said Cao. "Also, to make sure the workers who did return stayed, I boosted my skilled workers' pay by 10 to 15 percent."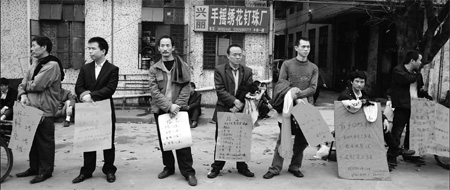 Private factory owners use boards boasting attractive salaries and extra benefits to recruit workers at a job market in the suburbs of Guangzhou, capital of Guangdong province. The province is short 200,000 workers, say officials. Zhang Youqiong/for China Daily
A poll of more than 300 companies impacted by the labor shortage showed almost 90 percent had increased wages to either keep or attract staff, said the Beijing-based Taihe Consulting Company. About 75 percent had opted to lower their criteria for new recruits, and 27 percent enhanced training for workers, the poll showed.
Cao complained that the increase in labor costs, coupled with a spike in prices for raw materials, is seriously eating into his company's profits. But these conditions are much better than the alternative: having to shut down production.
"We have had to suspend two of our processing lines because we cannot find people to work on them," said a manager surnamed Huang at Quanyi Shoe Machinery Co Ltd in Lishui town, close to the city of Foshan, one of the Pearl River Delta's largest industrial hubs in Guangdong province.
The factory restarted operation in late February but only 70 percent of its staff returned to work. "Not only have we lost our existing workforce, we're also struggling like many factories in Foshan and neighboring cities to attract new workers," said Huang.
Liu Yonghao, one of China's richest men and a member of the Chinese People's Political Consultative Conference, welcomed the labor shortage because it puts migrant workers in a stronger bargaining position, as well as forces companies to be less discriminatory when recruiting. "The labor shortage is a very good thing. Migrant workers are being paid 10 to 20 percent more than before, while those aged 30 and older are finding it easier to get jobs," said Liu, chairman of New Hope Group, an agribusiness enterprise based in Sichuan province. "Employers are now less picky about the sex of new workers. Also, some companies used to only recruit workers from certain provinces. They dare not do that now."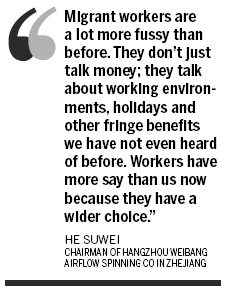 Factory boss He in Hangzhou, who said about 80 percent of his staff come from Sichuan and Anhui provinces, explained that many business were now looking to hire workers aged 30 to 40 because "they are usually more matured and stable".
At a State-run labor market in Shanghai's Minhang district, many of the jobseekers scanning the screens for the latest vacancies - mostly in construction and security - said they were looking for a job with a "little bit extra".
"A job is really easy to get now so I want higher pay," said Yu Mao, 28, a migrant laborer from Hubei province who has worked in the metropolis - part of the Yangtze River Delta - since 2003. "I'm looking for about 2,000 yuan a month."
In both the Pearl River and Yangtze River deltas, where cheap migrant labor has fueled rapid economic development over the last three decades, recruitment firms say they have a real job on their hands.
More than 400,000 positions were up for grabs across Zhejiang in the first week after Spring Festival, up 19 percent over the same period last year, showed human resources statistics released by the provincial government. However, the number of registered jobseekers was just 106,800, representing a fall of almost 30 percent.
At a job fair last week in the city of Zhanjiang, usually a major source of labor in southwest Guangdong, more than 250 companies from Dongguan, Zhuhai and Zhongshan sent representatives to fill about 39,000 jobs. Less than half of the 10,000 applicants they managed to attract were hired, sources with the provincial labor authority told China Daily.
Guangdong alone is short of about 900,000 workers, according to Liu Zhigeng, Party chief of Dongguan, who explained that his city needs almost 200,000 more hands. Those most in need are clothes manufacturers, printing and packaging firms, the service industry, and transport companies, said labor officials.
"Recruiting is always hard after Spring Festival but this year it is even worse," said Tang Jianjun, human resource director for Shanghai Yuzunzijue Entertainment, which runs a chain of nightclubs. "Companies in the service industry, like ours, are the hardest hit by labor shortages because most migrant workers think working as a waiter or attendant is menial. Once they have choice, they won't choose us."
Bosses at Shanghai Yihsin Industry, a laptop manufacturer under Huan Hsin Holdings, said they plan to add 1,000 assembly line workers to its staff this month but are reluctant to raise salaries above the minimum wage of 980 yuan set by the municipal authority.
"Manufacturers have a very low profit margin. If we raise their pay we face a situation where we will have no profit at all," said human resource director Sun Yiduo. "Shanghai has the highest minimum wage on the Chinese mainland, so it is easier to hire here than elsewhere. Recruiting for our factories in Qingdao (Shandong province), where the minimum is 760 yuan a month, has been so much harder."
The labor shortage is the result of many factors, say analysts, but one of the biggest is the sudden rush in overseas and domestic orders being received by factories.
Dongguan recorded exports worth almost $5 billion in January, an increase of 34 percent over the same month last year, as trade continued to return to post-financial crisis levels, according to a spokesman for the foreign economic and trade department. However, by the end of last month, less than half of the three million migrant workers who left Guangdong and headed home for Spring Festival had returned, said Zhang Xiang, a publicity official with the provincial labor authority.
"Many companies restarted operations earlier than expected after the Lunar New Year as they secured more orders," said Zhang. "They had to cut employees during the global financial crisis, now they need even more to sustain growth." Firms began hiring temporary workers during the second half of last year when business started to bounce back, but now they need a long-term employment strategy, he said.
The success of the nation's 4-trillion-yuan stimulus package in creating more job opportunities outside of the nation's industrial and economic centers has also contributed to the shortage, argue experts.
A poll of migrant laborers by the Ministry of Human Resources and Social Security this year found that 62 percent planned to return to the jobs in Pearl River and Yangtze River deltas after the Lunar New Year festivities, reported Xinhua News Agency. However, 30 percent could not guarantee they would go back.
Because of the high costs of living in the big cities, most workers are prepared to accept lower salaries for jobs closer to their families.
Xiao Zhiheng, vice-governor of Guangdong, said many farmers in the western, northern and eastern parts of the province have chosen to work for companies that have opened bases close to their hometowns as part of an industrial transfer plan introduced in 2008.
The rapid development of other regions, such as the Beibu Bay, off the coasts of the Guangxi Zhuang autonomous region and Hainan Island, and Bohai Bay in Liaoning province, has also helped divert laborers, said Zhang Yi, a researcher with the population and economic research institute of the Chinese Academy of Social Science.
"Massive construction projects in inner regions, which are traditional sources of labor, are now attracting laborers themselves. So it is no surprise companies in the Pearl River Delta have found it hard to find staff," he said.
Authorities in Shanghai and Guangdong have both adopted measures to help migrant workers and factories, including providing professional skills training, and officials said they are confident laborers will start to flood back into the deltas. However, experts are not so confident and suggest that the lay-offs and pay cuts rolled out at the height of the financial crisis last year may put some people off from venturing away from home.
"Both governments and companies need to change their attitude towards the migrant workforce," said Zhang Yi. "They need respect, and need stable and guaranteed lives. If the enterprises expect to always have laborers at their disposal, this kind of shortage will always be a headache."
Xu Guangjian, vice-president of the school of public management at Renmin University of China, added: "Although the supply of migrant workers is still abundant nationwide, an aging population coupled with a reduction in new labor in the long term means the bonus of China's large population - cheap labor - will not be an inexhaustible resource forever."
To ease their reliance on cheap labor, enterprises in the deltas are being urged to improve their use of technology.
"Sooner or later, labor is no longer going to be cheap in China and manufacturing companies will start to move elsewhere, just like what happened in Japan and South Korea," said business leader Liu Yonghao. "Companies have to upgrade their technologies and produce goods with more added value. Governments also must work with companies to solve migrant workers' problems with housing, medical insurance and education. This will help them to feel safer when working in cities."
Hangzhou textile boss Cao said he is already planning to buy new machinery to help improve efficiency and reduce the reliance on workers.
"If it helps to push forward industrial upgrading, the labor shortage may be a good thing for companies, too," added Dongguan Party chief Liu Zhigeng.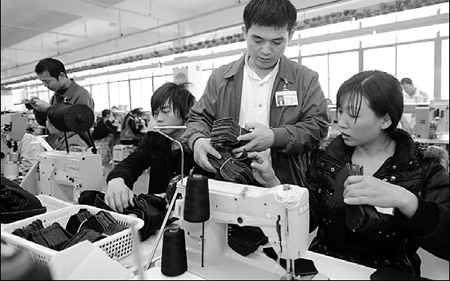 Migrant workers work the machines at a busy shoe factory in Jinjiang, Fujian province. Only 90 percent of the factory's workforce returned after the Spring Festival holidays. Zhang Guojun/Xinhua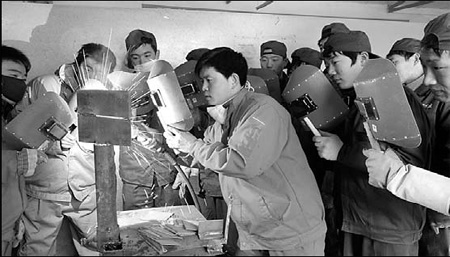 A teacher demonstrates electric welding at Taihe Vocational Training Center in Jinzhou, Liaoning province, where short-term training courses are being held for laid-off workers. Li Tiecheng/Xinhua
(China Daily 03/11/2010 page1)