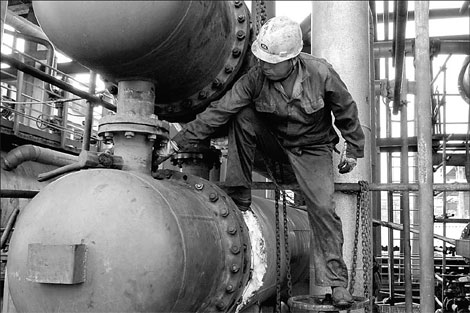 A worker checks equipment at a Sinopec oil refinery in Qingjiang, East China's Jiangsu province. San Zi / China foto press
Sinopec mulls major oil refinery joint venture in Fujian province
BEIJING - Sinopec, China's largest oil refiner, is considering joining forces with two global oil conglomerates to build an oil refinery able to process 12 million tons of crude per year in Fujian, a source familiar with the matter said on Monday.
The project would expand Sinopec's existing integrated oil refinery and petrochemical complex in the province,.
The project would include cooperation with US' ExxonMobil and Saudi Aramco, the national oil company of Saudi Arabia, said former vice-governor of Fujian Jia Xitai, a deputy to the ongoing National People's Congress (NPC) on Monday. The companies have started a feasibility study on the project, he said.
The petrochemical complex can also produce 1 million tons of ethylene per year, said Jia.
Ethylene is a colorless flammable gas derived from natural gas and petroleum.
The construction project is part of Sinopec's plan to expand its existing joint-venture project in Quanzhou, Fujian province, said Jia.
The company, together with ExxonMobil and Saudi Aramco, started operations at their 40-billion-yuan oil refining and petrochemical complex last year.
Rapidly growing demand for refined oil products in Fujian, an eastern coastal province, is fueling the project, said Jia.
"It will further ensure our energy safety," he said.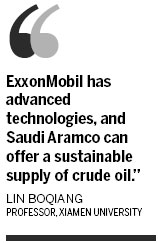 Analysts said cooperation between the three companies would bring good synergy to the project. "ExxonMobil has advanced technologies, and Saudi Aramco can offer a sustainable supply of crude oil," said Lin Boqiang, professor with Xiamen University.
Such large-scale petrochemical projects are seen to benefit China's petrochemical industry, as restructuring of the industry and technology upgrades would be the main focus for the sector in the long term, he added.
China adopted a new oil pricing mechanism last year, which is expected to help domestic refiners operate more efficiently, said analysts.
Under the mechanism China altered domestic gasoline and diesel prices eight times last year - including five price hikes and three price reductions.
The country may adjust the price of refined oil more frequently this year, which would "let refiners pass their costs onto end users more easily", said Lin with Xiamen University.
China's petrochemical industry may see 13 to 15 percent year-on-year revenue growth this year, thanks to the economic recovery, according to the China Petroleum & Chemical Industry Association (CPCIA). Total investment in the petrochemical industry is expected to grow by 15 percent this year, it said.
China's petrochemical industry includes oil and gas extraction, oil refining, chemical production and equipment manufacturing. The sector posted turnover of 6.63 trillion yuan in 2009, up 0.3 percent from a year earlier, according to statistics from CPCIA.
China Daily
(China Daily 03/09/2010 page16)