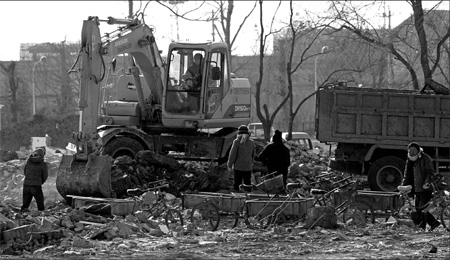 A bulldozer levels properties in Beiwu village, Haidian district. The village is a hot spot of redevelopment and controversy in Beijing.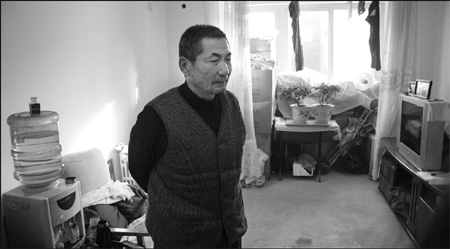 The new apartment occupied by a 71-year-old soldier surnamed Lu lacks the charm of his demolished home. Feng Yongbin / China Daily

In Beijing and beyond, defiant homeowners are taking a toughand very risky stand
It was a scene of chaos and desperation. Six men wearing helmets and military clothing burst into the Haidian district home of Xi Xinzhu on the afternoon of Dec 14, demanding that he and his family of six vacate the flat so it could be demolished.
The men removed Xi's wife, violently dragging her, and carried away his paralyzed, bedridden mother.
Xi poured gasoline onto his clothing, threatening to light himself afire if they did not leave.
"Go ahead and do it," one of the men reportedly told him.
And so he did.
Shortly afterward, his 300 sq m home was bulldozed. Villagers told METRO a five-star hotel will be built on the property, though local officials could not confirm that report. One district employee said a water reservoir will be constructed on the land.
Less than three months later, Xi still resides in a hospital as he recovers from the burns that cover 10 percent of his body. He has undergone at least three skin-grafting operations on his face and hands.
Racked with pain, he remains defiant to this day: "They are too cruel, and in order to safeguard my house, I would do the same thing again," Xi said.
Xi's is among a growing number of publicized cases of individuals in Beijing and across China standing up to bullies or even resorting to self-immolation to protest the destruction of their homes by development companies, many of them State-affiliated.
As entire villages are being razed to transform massive tracts of land into glittering, modern properties, the heavy-handed tactics of those builders are being drawn into question.
To defend their properties, many people are willing to risk their personal safety.
Wang Zaiying, 46, was beaten to death at 1:30 am July 4, 2008 just 200 m from the site of his demolished flat in Lizhuang village, Miyun county.
In March 2008 he was told to vacate his nine-room flat and on April 30 it was leveled with a tractor shovel. For about two months afterward he had visited the site.
Before his death he had received threatening letters and the windows of his unit had been broken several times.
In November, a 47-year-old business owner in Chengdu, Sichuan province, died after dousing herself with gasoline and igniting it. And on Jan 26, a man in Jiangsu province self-immolated to protest the demolition of his home, People's Daily reported.
Brute violence and the alarming acts of protest that have arisen with redevelopment campaigns and threaten social stability spurred the State Council, China's Cabinet, on Jan 29 to suggest major changes in the way land is seized.
Developers and demolition companies would be banned from using violence and turning off electricity to force residents from their homes, under rules proposed by the State Council Legislative Affairs Office.
The rules also stipulate that the government can only confiscate houses in the public interest and that property owners should be paid the market value of the land and home as compensation.
Yet for those who bear physical scars from ferocious relocation campaigns, the proposed changes come too late. Some experts say they worry there may already be other, more subtle, cracks in the fabric of society that could widen, causing problems that range from mental illness to social unrest.
"During demolition and relocation, dissatisfaction and distrust toward the government arises among people who are being relocated," said Wang Xixin, a Peking University law professor.
Wang Xixin, along with four other Peking University scholars, issued a set of recommendations last month to the National People's Congress calling for an overhaul of demolition procedures.
"Involuntary relocation may pose a psychological impact on the people being moved, which may become an unstable factor in society," Wang said. "In terms of culture, the concept of community is gradually disappearing. Hutongs, old city towns, a very essential part of our culture, are gone."
Urban villages are also being knocked down at a rapid clip in Beijing.
With their destruction comes the disappearance of complex structures of social and economic dependencies, said Hyun Shin, a lecturer in urban geography at the London School of Economics and Political Science who studied the social impact of urban redevelopment in Beijing.
"They are disconnected from their previous neighbors and are detached from the new community," said Shin. "There might be some trauma and shock, as well as health issues and psychological implications."
Relocation can be particularly hard on the elderly, who usually move to the outskirts of Beijing while their children manage remain in the city. This disintegration of the family unit creates new stress when it comes to caring for grandparents who traditionally would have relied on younger generations to look after them, said Shin.
"There are different combinations of living which become very individualized," he said.
A retired soldier surnamed Lu is one example. The 71-year-old had a home that was demolished in the Haidian district village, the same area where Xi set himself on fire. Unlike Xi, however, Lu accepted the compensation developers offered him.
"I didn't want to be in the way of a government project," Lu said.
He now lives alone, renting a transitional housing unit for 1,500 yuan ($220) per month. His son and two daughters have moved elsewhere. During the interview with METRO, a boiling pot of vegetables started to burn on Lu's stove, spreading smoke throughout the small flat.
"I am getting old and accustomed to living on the ground floor, so when I moved into an apartment building, climbing stairs, even three floors, was a difficult job for me," said Lu.
Lu said he misses life in his old house. During summers, he and his neighbors would sit outside and chat.
Despite the home's dismantling, at least Lu still has the fragments of a life he can glue back together and then move on.
For Xi, it is a far different story.
He and his wife, a US citizen, have been in a Beijing hospital for weeks. Xi, who holds a US permanent residence card, is recovering, but the couple have nowhere else to go. No one in their family does.
Xi's family was offered three two-room apartments and 640,000 yuan as compensation. The family rejected the offer.
In December Xi's brother filed a lawsuit against the Beiwu village committee, but the suit was rejected by a Haidian district court on grounds local officials acted according to law. The brother has appealed the case to the Beijing No 1 Intermediate Court but has not received a response.
Xi says his self-immolation was not premeditated but instead a spontaneous act of anger and desperation. At the moment, he thought it seemed worth sacrificing his life to protest the destruction of his home.
"I don't think about the future," said Xi. "I don't even see a future."
But he remembers the past fondly.
"The view from the old house was very beautiful," he said while sitting in a wheelchair, blankets wrapped around his scorched skin. "It was a very pretty place."
(China Daily 03/05/2010 page28)