SINGAPORE: Copper rose 1 percent in London and Shanghai yesterday, reversing early losses to build on the previous session's gains, but the temptation to pick up metal 15 percent off recent highs was tempered by worries of a fresh downward leg.
Copper and zinc added to gains of 3 and 4 percent respectively in the previous session after three weeks of selling pulled prices off their highest in a year-and-a-half or more.
"The market is still pretty nervous following the recent corrections. We are attempting to consolidate. There is some buying at these lower levels, but volumes may start to slow ahead of the Lunar New Year," said Barclays Capital analyst Yingxi Yu.
"The arbitrage trade is acting as a form of support in Asian trade, but we can't rule out further downside risk if we get more bad news about European debt."
Three-month copper on the London Metal Exchange (LME) rose $67.75 to $6,514.75 a ton by 07:01 GMT, building on Monday's 3 percent gain. Earlier copper dipped to $6,371.25.
"There was a strong recovery on Monday in response to the oversold condition of many metals and gains in equities on Friday," a trader in Melbourne said. "But the bears are back on Wall Street and I think metals may see more losses or at least a period of consolidation."
US equity markets fell on Monday but the MSCI index of Asian shares outside Japan rose 0.8 percent after dipping to a five-month low.
Volumes remained brisk ahead of the Lunar New Year. Some 3,000 lots of copper traded on LME Select during the Asian trading day, 50 percent above average but off the records seen in the past few days.
"The new year will cause some volatility. With the Chinese out for a week, we could see some big moves," a trader in Hong Kong said.
Market watchers speculated the recent sell-off in metals could be a bear trap, tempting investors to bet on falling prices and then taking advantage of China's absence to drive prices higher and spark a sharp short-covering rally.
"There are two schools of thought - this might be a bear trap or prices will continue their collapse," the Hong Kong trader said. "People are very wary that we haven't quite managed to break through downside support at the 200-day moving average at $6,000, whereas a close above $6,750 would stir up a lot of short covering."
Benchmark third-month Shanghai copper rose 670 yuan to 53,320 yuan a ton by the close, while the arbitrage between Shanghai and the LME was a wide 1,300 yuan.
The zinc arbitrage was also wide at about 1,000 yuan in favor of importing into China, something that might show up in Chinese trade data due later this week, traders said.
The arbitrage window was shut for most of the last quarter of 2009, curbing appetite for imported metal. In December, China imported 19,000 tons of zinc, down 10 percent on the month and well off the 2009 record peak of 121,000 tons struck in March.
Reuters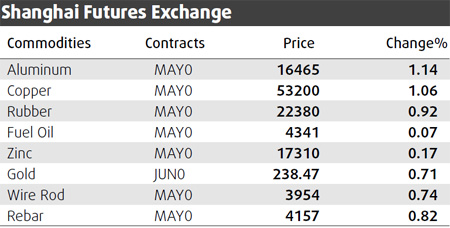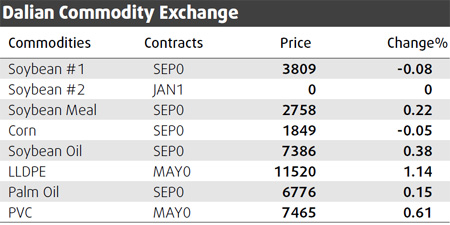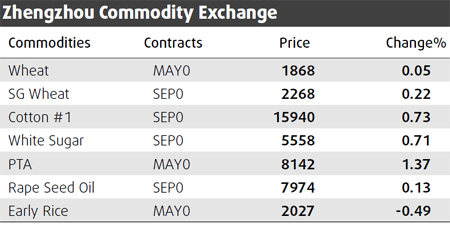 (China Daily 02/10/2010 page17)