Steven Zhang took three days to make the decision to participate in China's first-ever Mr Gay Pageant to be held this evening in Beijing, with his hesitation coming from worries over what would happen when he was "outed" by the event.
He did not expect the huge media attention both from home and abroad before the event.
The 30-year-old Liaoning native, who broke up with his boyfriend months ago, is now worried that the media exposure, particularly within the nation, would lead to unwanted consequences like losing his job or hurting his family's feelings, due to the social stigma and discrimination against homosexuals.
"I'm mentally prepared to get over it but not sure how long it would take. Well, so far I have no regret," he told China Daily yesterday, a day before the pageant featuring eight contestants from the mainland.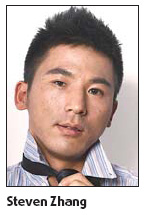 However, he conceded that he made the decision on impulse, despite the goodwill objections from friends citing widespread discrimination against homosexuals in the country with a 5,000-year tradition that values reproduction.
The event, masterminded by Gayographic, a gay public relations and event management company, will feature three rounds, including freestyle, fashion show, and Q&A session, according to Zhang Liang, also 30, an overseas returnee now working in the finance industry in Beijing and director of Gayographic.
"Through an entertaining and relaxed beauty pageant, we want to boost confidence among the gay community by coming out and helping raise public awareness on the issue," he said yesterday, adding that the social environment for China's estimated 30 million homosexuals has improved a lot during the past decade.
"The 'coming out' of people suffering discrimination, like homosexuals, would have a good effect among the community and help eliminate public discrimination," said Zhang Beichuan, a professor at Qingdao University and an expert on homosexuality and HIV/AIDS prevention.
But he said he is not sure if a beauty pageant is the best way to help stamp out discrimination. Most of the online comments left by netizens denounced the event as indecent, leading to a media circus, while some said the event is social progress promoting more tolerance towards homosexuals.
"Anyway, it reflects a more open and tolerant attitude of the country towards the gay community to host such an event," he said.
"Living in a discrimination-free society, gays would contribute more to the nation's development, thus benefiting everyone, regardless of straight or homosexual," he added.
He also urged the media to respect the privacy of the contestants while reporting on the event.
"I'd be glad to see proper media attention on our community, but not hype," Steven echoed.
"I was shocked to find out that some online media put my picture on the Internet without even asking my permission," said Steven, whose family, including his parents, do not know his sexual orientation.
Steven is not alone in his worries.
"I am afraid that too much media exposure, particularly before the pageant opening, would backfire and lead to unexpected results like an aborted event," Zhang Liang said.
"I hope everything will go smoothly tomorrow and the winner will compete on behalf of China's gay community in Oslo, Norway in February," he added.
(China Daily 01/15/2010 page6)