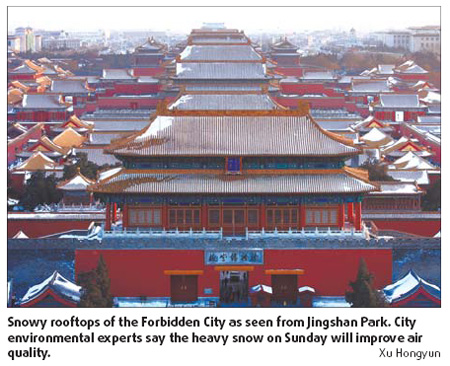 The heavy snow that arrived over the weekend bodes well for Beijing's blue-sky project that plans to have 266 days with relatively good air quality this year, six more than the target for last year, according to the Beijing municipal environmental protection bureau.
"The snow can purify the air and improve the air quality," said Lu Chuan, the spokesman from the bureau. The city has been running the blue-sky project aiming to improve its air quality for 12 years.
Statistics from the bureau show that the city recorded 285 blue-sky days, about 78 percent of the whole year.
However, officials have expected that the city would have to work harder to attain this year's target, with a full-recovery of its economy under way.
Zhu Tong, a professor from the college of environmental science and engineering at Peking University, said snow could absorb particles in the air, which will definitely improve the air quality.
"The air quality today or tomorrow is better, thanks to the snow. However, if the snow lasts for a long time and the weather remains the same, a lack of air flow might have a negative impact on the quality since it would be harder to disperse the pollution," Zhu told METRO.
Guo Hu, the center's director, said yesterday that the snow will purify the air, ease the water shortages in Beijing and help the crops to survive the winter.
"The temperature will likely drop to -16 C on Monday to Tuesday. The cold weather will put the heating and power companies under pressure since the government asks them to keep a minimum 16 C," he said.
Guo Weiqi, director of Beijing heating office of the municipal administration committee, said in order to reach the temperature, the city needs to increase supplies of fuel.
According to Guo, 95 percent of the city's heating supply comes from coal and gas, but he refused to reveal how much coal has been used to maintain the indoor temperature.
(China Daily 01/07/2010 page26)