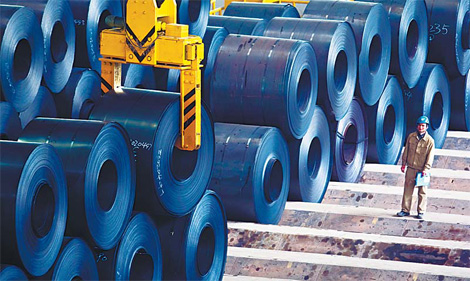 A Wugang workshop in Hubei province. The company expects to produce 37.9 million tons of crude steel next year, up from a forecast of 30.5 million tons this year. Lin Qing
Wuhan Iron & Steel Group (Wugang) plans to boost production by 24 percent next year as demand recovers and the economy continues to strengthen, the steelmaker said yesterday on its website.
Wugang expects to produce 37.9 million tons of crude steel next year, up from a forecast of 30.5 million tons this year, it said.
The group aims to earn 150 billion yuan ($22 billion) in revenue next year, up 11 percent from a forecast of 135 million yuan this year and said 2009 was the toughest year in the company's history.
Wugang will go ahead with its 10 million ton steel project in the Guangxi Zhuang autonomous region and also build a steel plant in Brazil, the statement said.
China's $586 billion stimulus spending has boosted steel demand from automakers, home-appliance manufacturers and builders. The measure helped domestic steelmakers return to profit in May after seven straight months of losses because of the global economic crisis.
Steel consumption might rise by 10 percent next year as fixed assets investment will increase 28 percent next year, boosting demand, said Yu Liangui, a senior analyst from Mysteel.
"The government's plan to restrict entry for small steelmakers gives ample room for large steel mills to boost production," said Yu.
The Ministry of Industry and Information Technology earlier this month said it would be mandatory for steel mills to have at least 1 million tons of capacity, a move that could squeeze small steel mills out of the market and speed up the pace of industry consolidation.
The industry is facing a glut situation as supply far exceeds demand, leading to high inventories, said Deng Qilin, general manager, Wugang.
China's steel stocks hit 12.18 million tons last week, up 109 percent from the same period last year and up 2.88 percent compared to last month, according to Mysteel.
Steel output may exceed 600 million tons next year, after reaching a record 570 million tons this year, the China Securities Journal reported on Dec 17, citing Ma Guoqiang, general manager of Baoshan Iron & Steel Co, the country's largest listed steelmaker.
Wugang recently stepped up its pace of overseas acquisitions to bolster its ore supplies to help its capacity expansion plans, said Du Wei, an analyst with Umetals.com.
Wugang acquired a 21.52 percent stake earlier this month in Brazilian iron ore miner MMX Mineracao e Metalicos SA for $400 million.
Last month, Wugang got approval from the Australian government for a A$271 million ($249 million) investment in Centrex Metals Ltd, and also for a 60-percent stake in the iron ore rights of five Centrex projects in South Australia that could contain up to two billion tons of resources.
In June, Wugang finalized the terms of a $240-million investment agreement with Consolidated Thompson Iron Mines of Canada for a 19.99 percent stake.
(China Daily 12/26/2009 page10)