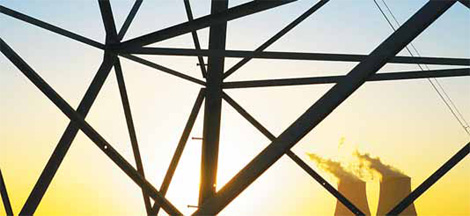 China has 11 nuclear reactors in operation, with a combined installed capacity of 9,080 mW. James Hardy
Construction of two or three inland nuclear power plants is expected to start by the end of next year, in a move that would further enhance the use of clean energy in China, according to sources familiar with the subject.
The new plants will use the AP1000 technology developed by US-based nuclear equipment firm Westinghouse. Nuclear projects will have a longer life cycle and improved safety by using the third-generation technology, said the sources.
These nuclear projects still need to get the final approval from the government, the sources said, without providing any further details.
Indications are that the projects would be Taohuajiang power plant in Hunan province, Xianning in Hubei province and Pengze in Jiangxi province, said industry insiders. The three projects are the first batch of inland nuclear power plants in the country.
The Hubei project is expected to generate electricity after four years, said media reports citing Wang Yanbin, deputy Party secretary of Tongshan county, where the project is located.
"Inland nuclear power projects will not only improve the power supply in the area, they will also help boost the economy of those regions, as they are always large projects which require large investment," said Fu Manchang, a nuclear power analyst.
Development of inland nuclear power is inevitable for the long-term growth of the nuclear power sector, said analysts. At present all the nuclear power projects that are in operation are in the coastal regions of China.
Though the development of inland nuclear power has been widely discussed, doubts still persist on the safety and environmental impact of the projects.
But with the use of the third generation technology, the most advanced in the world, the safety and environmental issues have been largely addressed, said an expert with State Nuclear Power Technology Corp (SNPTC) who declined to be named.
Compared with reactors using first- or second-generation technology, reactors with third-generation technology are simpler in design, thus reducing capital costs. They are also more fuel-efficient and safer, he said.
SNPTC, mainly responsible for the domestic development of nuclear power using third-generation technology from overseas, signed agreements with the Taohuajiang and Xianning projects for design and equipment supply, he said.
China has chosen AP1000 technology to build four nuclear reactors in coastal regions, two in Zhejiang and two in Shandong.
There are 11 nuclear reactors in operation in the country, with a combined installed capacity of 9,080 mW, according to the China Electricity Council. Three nuclear power bases have also been developed at Qinshan in Zhejiang province, Daya Bay in Guangdong province and Tianwan in Jiangsu province.
(China Daily 12/22/2009 page13)