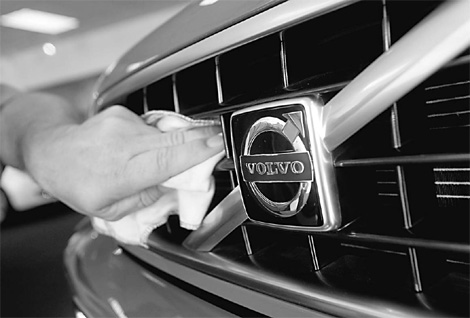 A salesman polishes a new XC90 sport utility vehicle at a Volvo dealership in Colonie, New York. Industry sources are hopeful of a deal between the Chinese car maker and the Swedish brand early next year. Bloomberg News
Zhejiang Geely Holding Group aims to conclude the acquisition of Ford Motor's Volvo Car Corp in early 2010 and has hired consultants for restructuring and integration, Reuters reported yesterday, citing sources with direct knowledge of the deal.
Germany-based Roland Berger Strategy Consultants has been hired to conduct a 100-day internal review and restructuring to improve Geely's operations with a focus on sales of its self-branded cars in China, a source said.
"The Volvo deal does not seem to have any more hurdles," said another source.
"In all probability a deal may be reached before the Chinese New Year (which falls on Feb 14) and Geely would start the integration process," said the source, who declined to be named due to the sensitive nature of the deal.
Geely officials were not immediately reachable for comments.
Geely Chairman Li Shufu, who is also the chairman of the Hong Kong-listed Geely Automobile Holdings, has hired Deloitte Touche Tohmatsu, to work out the post-acquisition integration modalities for Volvo.
The focus of the plan would be mainly on integrating the marketing and sales network in China, distribution, logistics and joint global operations, the source said.
Li said last month that he was confident on the Volvo deal. "There are lots of details and we are taking our time."
He said the effort to buy Volvo was aimed at promoting Geely's strategic development as it looks to move beyond the Chinese market, now the world's largest, and onto the global stage.
"Li Shufu wants to do something like Lenovo-IBM - have a foreign headquarters and a China headquarters," he said.
Ford has selected Geely as the preferred bidder for its loss-making Swedish unit Volvo in a deal estimated to be worth about $1.8 billion.
It compares to the $6.45 billion Ford paid for Volvo in 1999.
Geely, one of China's largest private carmakers, is seeking at least $1 billion in loans from Chinese banks to finance the deal.
Geely said that owning Volvo would give it "access to a significant suite of intellectual property, including Volvo's safety and environmental intellectual property."
Wolfgang Bernhart, a partner at Roland Berger, told Chinese media earlier this year that markets and technology were the two main drivers for Chinese automakers chasing overseas brands such as Volvo, Saab and Hummer.
"Personally, I think there is the likelihood of success of such mergers and acquisitions," he said.
China Daily - Reuters
(China Daily 12/17/2009 page14)