WASHINGTON: It was freezing and snowing hard Saturday afternoon, but 4-year-old giant panda Tai Shan didn't mind. He nimbly climbed onto a treetop and chewed his bamboo leaves.
Nearby, a dozen men and women, including an elderly woman in a wheelchair, held cameras and zoomed in on the animal. They were members of a fan club called Panda Unlimited, who come every weekend to snap shots and take videos of their icon. On Saturday, however, their collective mood was clearly somber.
The Smithsonian National Zoological Park had announced on Friday that Tai Shan would be sent to China early next year as stipulated in an agreement between the zoo and the Chinese government.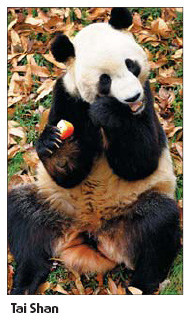 Tai Shan was the first surviving giant panda cub born at the Smithsonian National Zoo Park. Under the agreement, giant panda cubs born at the zoo also belong to China and are to be sent to the Wolong Base in Sichuan province after the cub turns two. Besides the National Zoo, giant pandas also live in three other US zoos in San Diego, Atlanta and Memphis. A total of 14 pandas in US are on loan from China.
Shortly before the male panda's second birthday in April 2007, the zoo was granted a two-year extension for Tai Shan to remain in Washington. Though the extension expired in July, the zoo was given a second extension until January 2010.
Cyndy Anderson, a Panda Unlimited member who has come to the zoo's Fujifilm Panda Habitat every weekend for the last two and half years to photograph Tai Shan and his parents Mei Xiang and Tian Tian, said she cried when she looked at her numerous pictures of Tai Shan.
"I know every hair on his nose and body and I was very sad to see her leaving," she said with tears in her eyes.
But no one might feel more saddened than Lisa Stevens, caretaker of the primates and giant pandas. She has looked after Tai Shan since he was born on July 9, 2005.
Stevens told China Daily that Tai Shan is old enough to breed and is heading to China for that purpose. She said more people will come to the panda's habitat in the coming days.
"Everyone wants to spend as much time with him in the time left," said Stevens, who has cared for pandas for more than 20 years, including Ling-Ling and Hsing-Hsing, the first pair of pandas who arrived in Washington in 1972.
The panda has not only become the favorite animal in the zoo but for the East Coast city as well. The panda is depicted on the city's Metrocard in Washington. Inside the zoo, there is a Panda Plaza Grill and Panda Store.
Tai Shan's parents, Mei Xiang and Tian Tian, are expected to return to China in December 2010.
"Tai Shan leaving Washington is terribly sad for the zoo, the community and his fans around the world," said acting National Zoo director Steve Monfort.
(China Daily 12/07/2009 page1)