Editors' note: On the eve of the International Symposium on City Cluster Development, which starts today in Changsha and runs until tomorrow, Li Guansheng, head of the Intelligence Office of the Changsha-Zhuzhou-Xiangtan Leadership and Coordination Committee, which is in charge of the city integration project, shared his opinions on new urban growth models with China Daily reporter Feng Zhiwei.
Q: What is the thinking behind this symposium?
A: Since the State Council approved the Changsha-Zhuzhou-Xiangtan city group as a national pilot area for building up a resource-efficient and eco-friendly society, we sought to take the lead in building an innovative mechanism to achieve this. We have looked to refine our experiences of upgrading traditional industries and explore a new way of developing a city cluster.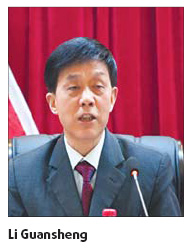 All these issues require us to undertake a wide-range of discussions relating to the options for city cluster growth. The choices we make here will be crucial for our urban development.
Q: How do you define the new urbanization route that the Changsha-Zhuzhou-Xiangtan city group has opted for? What is the relationship between industrialization and urbanization in this area?
A: The so-called new urbanization, as compared to traditional urbanization, focuses on an eco-friendly and market-driven economy with diversified industries and highlights people-centered administrative services. It aims for an ideal combination of urban and rural development.
Industrialization and urbanization are the issues inevitably involved in city construction. New industrialization is changing the traditional urbanization mode from being largely centralized to being more regionalized. It also sets out to promote the mutual prosperity of various-sized cities and towns.
At the same time, new urbanization is, in turn, advancing the birth of new industrialization. This will see it promoting the upgrade of traditional industries and providing the human resources and services required by industrialization.
Q: What is your position with regard to closing the gap between rural and urban development?
A: A city group covers an area, where there are cities, towns and villages. Building a city cluster requires the acceleration of the transportation network and social security system, both of which need to extend to rural areas.
We will do our best to close the gap between the urban and rural areas. Helping migrant workers from rural areas find jobs is a major concern on the government agenda.
Q: Could you please explain the proposed governance pattern of the city cluster?
A: The city cluster's governance determines its development. The policymakers of the province have already mapped out a governance framework. This sees the provincial government coordinate, the city governments involved make decisions and the business operations are left to market forces. The provincial government has established a special task force - led by Governor Zhou Qiang - to manage overall coordination.
With Changsha, Zhuzhou and Xiangtan as three individual cities, their three municipal governments all have decision-making powers. They can communicate through various channels, such as the mayoral forum. However, this communication is based on a situation where market forces play a leading role in allocating resources.
Recently, an inter-city railway construction plan has been unveiled, which is expected to forge close ties between the cities.
As a route linking rural and urban areas, small towns will directly absorb surplus labor in the countryside. Developing small towns is thus one of the priorities on our agenda.
Q: Could you explain to us the plans for Hunan's new urbanization system?
A: The Shangsha-Zhuzhou-Xiangtan group is very much the core, a driving force spurring economic growth throughout the surrounding areas.
The focus of our city cluster planning lies in industry, infrastructure and market forces. This is part of a bid to promote production, facilitate circulation and optimize resources.
(China Daily 12/03/2009 page6)