Female applicants for the army are being asked to showcase their talents in an interview process never before used and exclusively for women.
Aspiring female officers were surprised to learn from Wednesday last week that they are now required to perform a 'talent' as part of the country's current recruitment drive for the People's Liberation Army (PLA).
The test of artistic ability was included for the first time as part of the standard face-to-face interview by recruiters on behalf of the PLA, which took place following stringent health screenings over recent weeks.
"I was shocked by the new talent show test when I first heard about it," said Zhang Jing, a candidate from Beijing Union University who opted to read a piece of poetry.
Zhang, interviewed on Saturday in Haidian district, said only those who will later be selected for an art troupe will need to have these talents.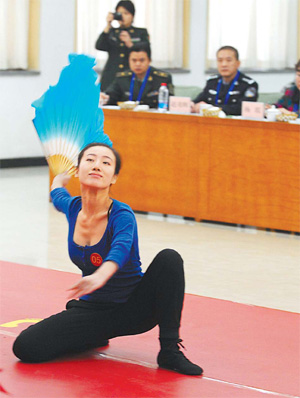 Zhu Yu, a student from Minzu University of China, performs a fan dance during a recruitment interview for female soldiers in Haidian district on Saturday. More than 60 female candidates took part. Mirror Evening News
A law major from the Beijing Normal University called Zhang Wenbian said: "I thought the talent show was a little unnecessary."
However, after singing in front of nine judges on Saturday she changed her mind, saying it offered her a chance to display her skills.
"The reason they asked for an artistic performance might be because there were more applicants than places," she said.
Soldiers are paid about 4,000 yuan every year in the army, while their livings expenses are covered. Those who have university education can also received a subsidy of 6,000 yuan for each year of study to cover university tuition fees. The army also offers employment assistance to its soldiers after they finish their contracted terms of service.
Lieutenant Colonel Ding Zhengquan from the Beijing recruitment office said they only want to choose the best eligible young women.
Ding confirmed there are limited vacancies for female applicants compared with their male counterparts, which is why standards have been raised.
The army interview for women includes a 30-second self-introduction, a 150-second question and answer period, and a 2-minute talent show.
Recruiters refused to disclose the number of women who will be recruited this year, citing national security as a concern.
Han Sheng, a student from Minzu University of China, displayed two of her paintings to the judges.
Han admitted she was surprised by the talent show: "It's only 2 minutes; some talents cannot be presented in such a short time."
However, some judges appeared more upbeat about the talent section. Wang Bosheng, a judge in the Haidian district section and a member of the National People's Congress, believed the artistic element was essential.
"It is amazing to see so many girls with such great gifts," Wang said. He added it would help them select the right people for the army.
Wang Qian, a vice battalion commander in the Second Artillery Force, reviewed the female applicants in Haidian district on Saturday in the hope of finding suitable women for her battalion.
Wang believed it was extremely necessary to include the talent shows, and told METRO: "Female soldiers are a special element of the army."
She said the army did not only want someone who is intelligent.
"We want to find those candidates who are great in every field," she said.
The face-to-face interview has a total mark of 30. The talent show counts for 8 marks with "expression" and "impression" providing another 12 and 10.
In order to ensure interview fairness, mobile signals were blocked in all examination rooms and questions were picked randomly by applicants.
The recruitment drive for male applicants is also still ongoing.
(China Daily 11/30/2009 page17)