China's third largest steelmaker, Wuhan Iron & Steel Group, yesterday said it had signed a long-term iron ore supply contract with Venezuela's Corporacion Venezolana de Guayana (CVG), in a move to help the company diversify its raw material sources.
Wuhan Iron will buy the iron ore using a different pricing mechanism from benchmark prices set annually by the world's top three suppliers, the Wuhan, Hubei-based company said in a statement on its website yesterday.
"This is the first contract to be implemented using the separate pricing mechanism, signaling that Chinese iron ore purchase prices will not be restricted by the three top iron ore producers," said the statement, without elaborating on what the rates would be.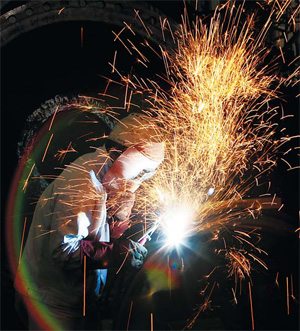 CVG's current production capacity is 23 million tons. An Xin
CVG is the only iron ore producer in Venezuela, and currently has a production capacity of 23 million tons. Venezuela has a proven iron ore reserve of 4.18 billion tons, with total reserves amounting to 14.66 billion tons, said the statement.
Analysts said the deal was in line with domestic steelmakers' strategy to diversify their sources of iron ore supply. "With more deals like this, Chinese steel companies can increase bargaining power in negotiations with the world's top three iron ore suppliers," said Xu Xiangchun, executive director of domestic consulting firm Mysteel.
It is easier for domestic companies to negotiate with these smaller producers on prices, said Xu, adding that these deals can help cut domestic companies' reliance on the top three suppliers.
Chinese steelmakers failed to reach a price agreement with suppliers Rio Tinto Group, BHP Billiton Ltd and Cia Vale do Rio Doce this year. The three producers account for three-quarters of the global sea-borne iron ore trade.
Japanese and South Korean steelmakers won a 33 percent price cut for contract iron ore from suppliers this year.
Analysts said prices might jump 14 percent in 2010 to the second highest on record.
Wuhan Iron earlier offered to buy a stake in Brazilian mining group MMX Mineracao e Metalicos SA and build a steel plant there.
Potential business deals are set out in a memorandum of understanding signed by Wuhan Steel, MMX and LLX Logistica SA. MMX and LLX, both controlled by Brazilian billionaire Eike Batista, plan to sell assets.
(China Daily 11/17/2009 page13)