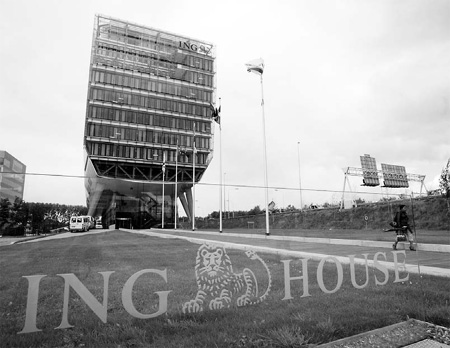 The company had earlier set up separate boards to run its banking and insurance units. Bloomberg News
AMSTERDAM: Dutch bancassurer ING Groep NV said yesterday it would split itself in two as part of a restructuring deal with the European Commission, transforming itself over the next four years into a smaller Europe-focused bank.
The company also said it would pay back 50 percent of its aid from the Dutch state early and launch a 7.5 billion euro ($11.25 billion) rights issue.
The surprise announcement from ING accelerates a move that many analysts had expected, but not for years to come. ING had already set up separate boards to run its banking and insurance units but had denied any plans to split them.
The dismantling process, which is expected to run through 2013, will effectively leave ING as a primarily European operation with some smaller units elsewhere. The company said its balance sheet at the end of the restructuring will be 30 percent smaller than before its 2008 government bailout.
The restructuring deal between the commission and ING is the most striking example yet of the deep changes the European Union's executive arm plans to force on banks that received state aid.
A rescue plan for Germany's second-largest bank, Commerzbank , got the go-ahead from European antitrust regulators in May on the understanding that it divest about 45 percent of its balance sheet.
Royal Bank of Scotland and Lloyds Bank Group, 70 percent and 43 percent respectively owned by Britain, are expected to be ordered into disposals by the European Commission.
Belgium's KBC and Franco-Belgian Dexia are also awaiting rulings from the executive arm of the 27-member European Union.
Analysts have feared ING's restructuring would have to be deeper than the 6 billion to 8 billion euros of asset sales that it announced in April, and in August it warned that might be the case.
ING said the divestment of the insurance operations would be completed by 2013, through IPOs and or sales. It will also split off some Dutch mortgage operations into a new company that would have about a 6 percent share of the Dutch mortgage market.
Pursuant to the restructuring agreement with the EU, ING also said it will have to sell ING Direct USA, its American online banking business. ING separately said the CEO of ING Direct planned to take early retirement.
Repaid aid
Subsequent to a revised agreement with the Dutch state, ING said it would repurchase 5 billion euros in core Tier 1 securities in December. ING received 10 billion euros from the state in Oct 2008.
It will have to repay the aid at 10 euros per share, plus an 8.5 percent coupon payment and a repayment premium of between 333 million euros and 691 million euros.
ING also said it would pay an additional 1.3 billion euros under an asset guarantee scheme from January. At that time ING and the state made a deal for the government to guarantee the risk on 22 billion euros of mortgage-backed securities at 90 percent of their par value.
The EU had extended a review on that deal, saying it appeared the state paid too much for the assets.
To finance those repayments and protect its ratios ING will launch a rights issue underwritten by Goldman Sachs and JPMorgan. ING said it will present the rights issue at an extraordinary general meeting on Nov 25. The price, ratios and total number of shares will be announced after that.
Reuters
(China Daily 10/27/2009 page17)