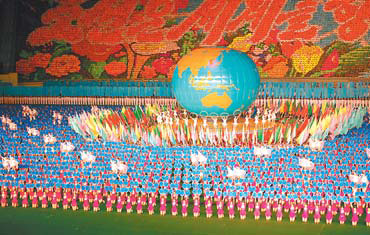 SEOUL: The Democratic People's Republic of Korea said the extended run of its dance-and-tumbling extravaganza known as the Mass Games has come to a close.
The official Korean Central News Agency said yesterday that the performance drew some 1.4 million people during its 50-day run at Pyongyang's May Day Stadium. The report said leader Kim Jong-il was among those who enjoyed the spectacle known in the DPRK as the Arirang Festival. KCNA said Kim called it "a successful work."
The mass gymnastics event, named after a popular Korean folk song, showed the revolutionary history of late president Kim Il-sung. It began in 2002 to mark the 90th anniversary of the birth of the founding father of the DPRK. With participation of over 100,000 young students and professional artists, the highly choreographed performance has become a traditional attraction for foreign tourists.
AP-Xinhua
(China Daily 10/21/2009 page12)