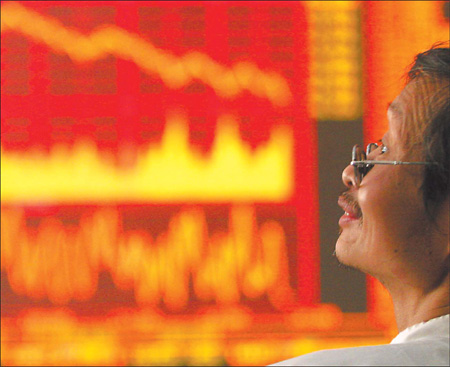 A trader watches the screens at the Shenzhen Stock Exchange. Small businesses and independent stock traders have been urged to invest with caution. Chen Liang
As with most successful business models, the one employed by American Idol, a popular United States TV singing contest, has spawned a legion of imitations.
The airwaves are awash with the likes of global hits America's Got Talent and X Factor, as well as Supergirl, the Chinese hit first shown on a Hunan station in 2005 that made a star of Li Yuchun.
But few would have predicted the talent content model would be used to find China's most successful stock investor.
In June, Guoxin Securities, jrj.com and the Shanghai-based Bank of Communications launched their third annual hunt for the best independent market brokers, attracting 100,000 hopefuls from across the nation.
Contestants in the six-month challenge are whittled down to 10 and are then given 1 million yuan ($150,000) to invest on the mainland's Shanghai and Shenzhen stock markets. The victor is the person with the highest return after two months.
First prize is 20 million yuan in investment capital, with the winner able to keep any profits made, and a full-time job as a fund manager at Guoxin Securities in Shenzhen, Guangdong province.
However, one of the candidates tipped for "investor idol" glory dropped out last month saying the Chinese economy is still in troubled waters and that analysts at home and abroad have been premature in heralding an end to the global financial crisis.
"I am very pessimistic about Chinese stock markets in the second half of the year and I lack confidence in the Chinese economy," said Zhu Hongbin, a 39-year-old entrepreneur from Beijing, who made a 25-percent return on his investments during the first month of the contest alone. "It will take a long time before the economy really recovers, despite many economists' optimistic outlooks."
New reports suggest China's entrepreneurs are gaining confidence in the country's economy, but Zhu, who runs 18 stores across the capital selling one of China's leading underwear brands, AB, said small and medium-sized enterprises are still desperately struggling.
Fresh figures from the National Bureau of Statistics (NBS) show that the Business Climate Index, which measures current production and expected production over the next six months, rose sharply in the third quarter of this year to 124.4 from 115.9 in the second.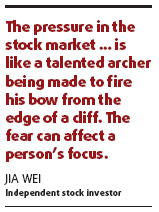 The Entrepreneur Confidence Index also soared to 120.1 in the third quarter from 110.2 in the second, after bottoming out at 94.6 in the fourth quarter last year, it said.
But Zhu disagrees with the statistics and told China Daily: "Even though the central government launched a 4-trillion-yuan stimulus package, many small businesses still find it very difficult to access funds. A lot of the 7.3 trillion yuan in loans released by banks disappeared straight into the stock and property markets.
"China's economy still relies too much on exports and is very vulnerable to fluctuations in international markets. A country is like a business, and it has to set up a sustainable business model to make a profit rather than just rely on investment and exports."
AB has been relatively unaffected during the economic slowdown, despite the fact it trades heavily in overseas markets. Around 70 percent of products from its factories in Jiangsu and Hubei provinces are shipped to the US.
But in a nation where net exports and investment in fixed assets like property, plant or equipment accounted for more than 60 percent of China's gross domestic product growth between 2001 and last year, others have not been so lucky.
The crisis resulted in exports dropping almost 22 percent year on year by the first half of this year, and caused the loss of thousands of jobs across China. However, thanks to the State Council's stimulus plan, fixed-asset investment is now the most important contributor to the nation's gross domestic product growth, rising
33 percent year on year between January and August this year, according to the NBS.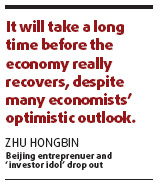 "With exports struggling, it was a good time to shift our growth model to one that relied more on domestic consumption. But I don't think there have been sufficient government policies that can lead to significant changes in stimulating domestic demand," said Zhu. "Policymakers and companies still need to put a lot more emphasis on the domestic market."
Yao Jingyuan, chief economist at the NBS, echoed his comments by saying: "Despite signs of life, the Chinese economy, the third largest in the world, still faces uncertainties as growth was boosted mainly by investment, not consumption."
China has announced a batch of measures to jack up domestic consumption and offset the exports slump, including policies to boost house and car sales, policies to raise pensions and minimum allowances for low-income families, and discount vouchers in several cities.
Zhu said the measures are far from enough. After a drop off in exports, domestic consumption accounted for more than 50 percent of China's growth in the first half of this year. However, this is far below the 70-percent mark recorded in the US, he said.
He is also worried that the "positive signs of economic recovery" indicated by recent economic data may result in the central government returning to its old model.
"Judging from data collected last month among renminbi in circulation, new loan growth and consumption, Chinese enterprises are getting more active and people's willingness to consume is increasing," said Ding Zhijie, an economist at the University of International Business and Economics in Beijing.
Zhu remains unconvinced and said he will be redirecting his energies away from the stock markets and into expanding his business, with plans to open 14 more stores across Beijing within two years.
He also warned individuals and small firms to think twice before dabbling in the markets.
"Compared to institutions, individual investors especially are at a disadvantage when it comes to access to information, and sometimes the information they do have access to is manipulated," said Zhu, who started investing in 2003.
His comments followed an announcement by the China Securities Regulatory Commission on Sept 23 that it will investigate the Shenzhen Stock Exchange-listed Wuliangye Yibin, one of China's largest alcohol manufacturers, over discrepancies in its stated core revenue. The firm is accused of not properly disclosing an investment loss.
"A stock market is like a big ocean and only when your skin has turned bronze can you really possess good swimming skills," said Zhu. "With the stock market, individual investors are small fish and are doomed to be eaten by bigger fish, such as institutional investors. In an immature market such as China's, institutional investors can easily manipulate the market, deal with insider trading and disseminate fake information to cheat the public."
Institutional investors hold more than 50 percent of China's stock market's current 8-trillion-yuan value, according to Wind Info, a Shanghai-based financial information provider.
However, a shortage of experienced fund managers is hampering the market, say experts, because small firms and individual investors are unwilling to trust their money with the majority of fund firms.
The average age of fund managers in China is 35, a good 10 years younger than those on Wall Street in New York. And of the 376 professional mutual fund managers with Chinese firms, only three have worked in the field for more than a decade, according to Morningstar, a domestic fund information provider.
Around 50 percent have less than two years of experience in the job, while 22 percent have less than one year, Morningstar reported.
Money is also a major factor. A standard fund manager makes between 300,000 and 3 million yuan a year, but a private equity fund manager's salary can hit 10 million yuan. Therefore, seasoned managers prefer to launch their own funds, enabling them to enjoy 17-percent commission on profits and less pressure because they do not need to worry about regular performance rankings.
The Investors, a Beijing-based financial magazine, reported that more than 100 fund managers have left posts to join private equity companies in the past eight months.
"As China's stock market develops, new companies and new funds, especially private funds, will continue to create a huge demand for fund managers, which is the main reason many fund managers are leaving their posts," said Xu Xingfu, an analyst with Industrial Securities in Fujian province
The decision by Zhu to drop out of the race could prove a mistake if predictions by Jia Wei, another hotly tipped candidate for "investor idol" from Beijing, are correct. The duo stand in stark contrast, as Jia feels confident China is now witnessing the early stages of resurgence in its Shanghai and Shenzhen stock exchanges.
He has experienced many ups and downs since quitting his job as a human resources manager at NCR, a leading US manufacturer of automated bank tellers, for life as a full-time trader in 1999.
However, whether it is a bull market, an extended period of stock price rises, or a bear market, a long-term downtrend, good trading techniques will always win out, said the ambitious 39-year-old, who has competed in the investor contest since its conception in 2007.
"The competition will prove the unique investment style I have devised over the last 10 years is successful. I want to prove I am the best. The contest will also help me develop contacts with other highly skilled traders," he said.
He believes independent traders can only survive in China's chaotic stock markets by making their own rules. He sticks to a rigid regime that involves studying market waves for 19 hours a day and regularly uses the forums on jrj.com, a Nasdaq-listed Chinese Web portal offering information on the market trends.
"It is fun and a big part of my life. I could easily beat my rivals with my personal techniques," said Jia. "The only challenge for me is sticking to my principles. Market waves occur every minute, so there is huge real-time pressure and it is easy to change your mind in the heat of the moment, although this can often prove a huge mistake later on.
"It is like a talented archer being made to fire his bow from the edge of a cliff. The fear can affect a person's focus on the target."
But despite his optimism, he supported Zhu's warning to individuals and small firms about the market. "Individual investors always think they are smart and can make easy money trading stocks, but that is usually when the trouble starts because they are never smarter than institutional investors," he said.
"If I could choose again, I would never pick this life. Nothing is more important than a healthy lifestyle, but you will certainly not find it by working as a stock market trader."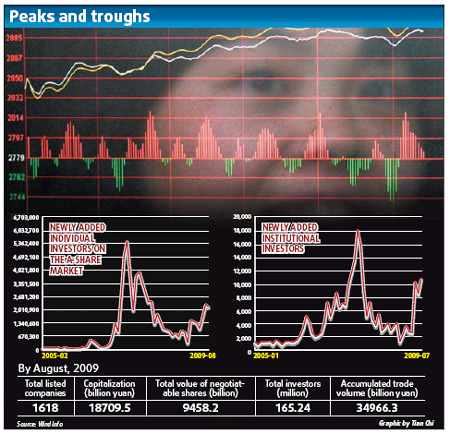 (China Daily 10/16/2009 page7)