An official in East China's Jiangsu province, dubbed "super expensive cigarette director" after his luxurious lifestyle was exposed by netizens late last year, was sentenced to 11 years in jail over the weekend for taking bribes.
The Nanjing Intermediate People's Court also confiscated 1.2 million yuan ($176,000) worth of personal property from Zhou Jiugeng, the former director of the real estate management bureau in Jiangning district in the provincial capital Nanjing.
Zhou was convicted of accepting 1.07 million yuan and HK$110,000 ($14,000) in bribes from contractors, subordinate businesses and officials.
The court said the 49-year-old was given the lenient sentence for confessing to the prosecutors and handing over the accepted bribe money on his own. Zhou was removed from his post on Dec 28 last year for his irresponsible remarks and luxurious lifestyle.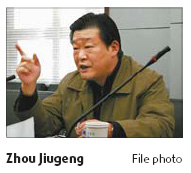 He came under fire late last year when he told reporters on Dec 10 that real estate developers should be punished for selling apartments below cost. The remark sparked a heated debate among the public, who had been complaining about soaring house prices.
Internet users soon uploaded pictures showing Zhou's luxurious lifestyle. In those photos, Zhou was seen wearing a Vacheron Constantin watch, which costs at least 100,000 yuan. There was also a pack of Nanjing 95 Imperial Cigarettes shown in the picture. The cigarettes cost about 150 yuan per pack. Zhou was also seen driving a Cadillac to work.
Zhou's case showed how the Internet was becoming an increasingly important medium to fight corruption, experts said.
Hao Mingjin, vice-minister of supervision and a Chinese People's Political Consultative Conference National Committee member, said during this year's annual legislative and political advisory sessions that the Internet had strengthened his ministry's campaign against corruption.
"We get tips through the Internet and treat them seriously. Some investigations are actually based on information that has come online," he said.
Liu Binjie, head of the General Administration of Press and Publication, agreed, saying many problems were first exposed on the Internet and then received the government's attention.
"Internet supervision is playing a very important role in promoting democracy and ensuring the people's right to know, which should be fully encouraged and supported," Liu said.
Some scholars, however, expressed worries over whether Internet supervision could work as well as people expected.
Gao Xinmin, a professor with the Party School of the Communist Party of China Central Committee, said: "The Internet provides a new way for people to supervise officials, but what really matters is that the government listens to their voices and takes action."
While online manhunts can help fight corruption, they must be properly used or they can infringe on people's basic human rights, he said.
An online survey conducted by People.com.cn this year revealed that more than 90 percent of the respondents said they would choose the Internet to expose wrongdoings like scandals and corruptions.
In 2005, Zheng Dashui, a procurement official from Suzhou, Jiangsu province, was the first to be exposed via an online tip-off. He was later sentenced to seven years in prison for taking bribes worth nearly 500,000 yuan.
China Daily-Xinhua
(China Daily 10/12/2009 page3)