Despite the explosion in lending in the first half of this year, most Chinese banks do not regard bad loans as a major problem over the next three years, a survey jointly conducted by China Banking Association and PricewaterhouseCoopers (PwC) said.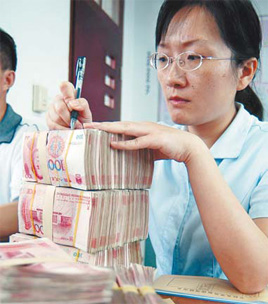 Bankers are confident about future business growth. Xu Jinbai
The survey involved 58 Chinese banks and included interviews with 81 senior bankers.
It showed that more than 80 percent of respondents predicted their non-performing loan (NPL) ratio would be kept below 5 percent and that the quality of their assets could be maintained at the current level between 2009 and 2011.
"Banks may see a mild increase in bad loans within the next few years, but that is largely because of cyclical reasons, rather than deficiencies in risk management capacity," Ba Shusong, chief economist at the China Banking Association, said.
"Regulators also gave ample directives to help lenders avoid potential risks, such as raising the requirement for bad loan provisions and spreading risk," said Ba, who is also deputy director of the Institute of Financial Studies at the State Council Development and Research Center.
Chinese banks flexed their muscles to help finance the nation's giant stimulus package, advancing a record-setting 7.37 trillion yuan in new loans in the first half, which caused wide concerns that it might lead to a surge in bank loans in the near future.
However, the average non-performing loan ratio of Chinese lenders continued to decline in the first half, reaching 1.77 percent at the end of June, down 0.65 percentage points from a year earlier.
"The pace of loan growth in the second half will be more stable and we are monitoring relevant risks very closely," Liu Minggang, head of the China Banking Regulatory Commission, said.
The survey revealed that the majority of respondents were confident about business growth over the next three years and believed that fee businesses would be the key driver of income growth.
In spite of the surging lending so far this year, Chinese banks, which mainly rely on corporate lending as their main source of revenue, have seen their profitability eroded by shrinking interest margins.
Wang Huaqing, head of discipline at the China Banking Regulatory Commission, noted that Chinese banks could face enormous challenges if they do not shift away from their traditional profit-making model of largely depending on lending.
"The interest spread in the domestic financial market is 2 to 3 percent at present, which is still lower than that of the mature international financial markets," Wang said, noting such pricing power could diminish as the competition between domestic banks intensified.

(China Daily 09/09/2009 page13)