AMSTERDAM: ING Groep NV, the largest Dutch financial-services company, said second-quarter profit fell 96 percent, more than analysts estimated, as it set aside money for risky loans and reduced the value of its real-estate holdings.
ING tumbled as much as 15 percent in Amsterdam trading after reporting net income of 71 million euros ($100 million), below the 362 million-euro median estimate of 10 analysts surveyed by Bloomberg.
"Market impacts and the weaker economic environment continue to strain ING's results," Chief Executive Officer Jan Hommen said. "Credit quality worsened, leading to a rise in risk costs, while lower property prices in many regions triggered negative revaluations on real estate."
Hommen, who took over in January, aims to raise as much as 8 billion euros selling assets to boost capital.
The bank said it has cut 8,219 jobs, more than previously planned, and expects to reduce costs by 1.3 billion euros this year. ING, which traces its roots to 1743, had about 4.98 billion euros of losses over the previous three quarters.
ING shares were down 67 cents, or 7.3 percent, to 8.45 euros by 9:05 am in Amsterdam. The stock has risen 16 percent this year, lagging behind a 42 percent gain in the 52-member Dow Jones Stoxx 600 Banks Index. The company has a market value of 18.8 billion euros.
Possible changes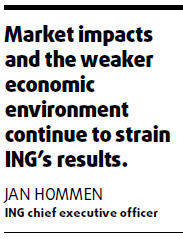 ING, which received a 10 billion-euro lifeline in October from the Netherlands and transferred the risk on most Alt-A mortgage assets to the Dutch state, is reviewing additional strategic options "to facilitate our continued transformation and realize our ambition to repay the Dutch state", the company said.
Discussions between the European Commission, the Dutch government and ING about the restructuring plan the company earlier submitted will start soon, the lender said. "The outcome could lead to significant changes for ING going forward," it said. The European Commission temporarily approved the risk transfer agreement in March.
ING set aside 852 million euros for doubtful loans in the second quarter, up from 234 million euros a year earlier. Analysts estimated provisions of 796 million euros.
The company's banking units posted a pretax loss, excluding one-time items and divestments, of 204 million euros, as ING Real Estate had a 580 million-euro loss. The insurance businesses had a profit of 278 million euros.
ING's bank core capital ratio, a measure of financial strength, was 7.3 percent at the end of June, compared with 7.5 percent at the end of March.
The company raised 1.4 billion euros in February by selling its 70 percent stake in ING Canada Inc, that country's largest property and casualty insurer.
ING agreed to sell its annuity and mortgage businesses in Chile to Corp Group Vida Chile SA last month. Corpvida will pay about $350 million for the assets, Santiago-based newspaper Diario Financiero said.
ING has sent out preliminary sales documents to potential buyers of its Asian and Swiss private banking assets, two people familiar with the talks said last month. The combined assets may fetch about $1.5 billion, one of the people said.
Bloomberg News
(China Daily 08/13/2009 page17)