A netizen who accused a local official of corruption in an online post is standing trial on a charge of slander in Shandong province.
Duan Lei, 28, from Cao county, is accused of publishing a message on websites blog.sina.com.cn, www.tianya.cn and tieba.baidu.com in February alleging Guo Feng, secretary of the Zhuangzhai town Communist Party committee, took bribes and used his position to ensure his family won construction contracts, the Xinhua New Agency reported yesterday.
The message also alleged that Guo's son traded drugs, organized prostitution and kept mistresses while running a local KTV nightclub.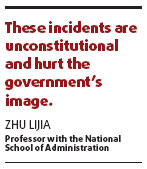 Duan is the latest example of netizens being charged over information posted online.
Li Yong, a well-known online writer and former reporter at Legal Daily, said the government was using the case to prevent citizens from criticizing officials.
"The local police and procuratorate's act of accusing Duan of slander abuses government power to protect local officials' prestige," Li told China Daily.
Guo reported the online post to police on Feb 25. Duan was detained and on July 3 he was charged with slander. The county procurator office said the posts "have a harmful influence and disturb the social order".
The trial began last Friday in county court. Duan's family and reporters were told to leave court during the trial, a move defense attorney Pu Zhiqiang protested, Southern Metropolis Daily reported on Saturday.
"The closed-door trial is absurd since the posts Duan published online have nothing to do with personal privacy," Pu said.
The county police found the posts had been viewed only 79 times after searching on major search engines Google and Baidu.
"It proves the posts were not a harmful influence," Pu told the Beijing News.
The prosecutor provided testimony from Zhuangzhai government, he said.
The court ended without a verdict and will reopen on Aug 3.
Last year, 39-year-old netizen Wu Baoquan from Inner Mongolia was sentenced to two years in prison for slandering the government. He published a post in 2007 exposing the Erdos government's illegal occupation of land to construct government buildings and villas for civil servants.
In March, Wang Shuai from Lingbao, Henan province, was detained after he revealed Dawang government's illegal land acquisition in an online post.
After investigation, the provincial public security bureau director apologized to the public and a vice-director was suspended.
"These incidents are unconstitutional and hurt the government's image," Zhu Lijia, a professor with the National School of Administration, told Chinanews.com.
"Criminal sanctions should not be imposed on citizens for expressing opinions, like criticizing government," Wang Shunan, an expert with the school of criminal and judicatory law of China University of Political Science and Law, told the report.
(China Daily 07/20/2009 page3)