Just two weeks after a building toppled over in Shanghai, about 200 residents in Jiamusi, Heilongjiang province, say they fear being "buried alive" in a similar incident.
In an open letter to Jiamusi Communist party chief Lin Xiushan, mayor Li Haitao and the Construction Bureau, the residents say the foundation of their apartment block has developed cracks because of construction of an underground car garage next door.
The letter said that according to regulations underground construction must be no closer than nine meters from an existing building. However, this car garage was five meters away.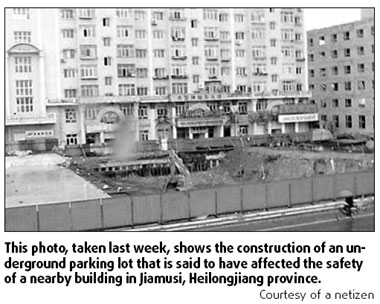 "There's a big pit [near the building]," wrote the residents in the open letter. "Water has poured into the pit and immersed the foundations for many days. The foundations have been heavily eroded."
It follows the collapse of one of 11 apartment buildings under construction in Shanghai on June 27.
The collapse prompted residents to look at the car garage construction and wonder if it could happen to them.
A photograph published on the Internet shows banners on the side of the building saying "Secretary Lin, rescue us! Or we'll be buried alive!" and "We never want to see what happened in Shanghai occur in Jiamusi!"
Director Xu from the Construction Bureau of Jiamusi admitted his department did not monitor the construction closely enough. The soil has been moved back to the foundation but construction has continued on the car garage. "The mud has been backfilled to the problematic area," Xu said yesterday.
"We, the construction bureau, have the responsibility, so we have stressed the supervision of this construction according to the relevant laws."
He also said a safety investigation team has been sent to the site, and experts ensured the apartment building is safe.
China Daily
(China Daily 07/14/2009 page4)