NEW YORK: The hedge fund manager that won Warren Buffett's annual charity auction said the $1.68 million price for a steak lunch with the billionaire is "an investment in our future" amid the global recession.
Salida Capital, with about $300 million in assets under management, was today identified as the winning bidder by the Glide Foundation, the charity that is the beneficiary of the funds raised in the auction. The bidding for the 10th-annual event ended on EBay Inc's website on June 26.
Salida and its chief executive officer, Courtenay Wolfe, won the right to query Buffett about his investment philosophy and outlook for the economy. The bid by the Toronto-based firm was 20 percent less than last year's record $2.11 million, the largest amount ever for an EBay-sponsored charity auction.
"We're happy to get it for the price we got it for," Wolfe said in an interview on Wednesday. "Warren's success as an investor has transcended decades and all types of market conditions. Particularly going through such sensitive times, his wisdom and experience is of great value to us and we believe it's an investment in our future."
Buffett, the chairman and CEO of Berkshire Hathaway Inc, transformed the firm from a failing textile maker into a $132 billion company by acquiring out-of-favor securities and businesses in industries ranging from insurance and utilities to candy-making and underwear. Shares of the Omaha, Nebraska-based company traded at about $15 when he took control in 1965. They sold today for more than $86,000 on the New York Stock Exchange.
Wolfe will be joined at the lunch by Chief Investment Officer Danny Guy, portfolio manager Brad White and "a handful of people who have been big supporters", she said. Buffett, the world's second-wealthiest man, typically sits down for a three-hour meal a year after the auction concludes.
Salida, founded in 2001, currently manages three funds. Its Salida multi strategy hedge fund returned 83 percent in the first half of this year after falling by about two-thirds in 2008, according to Bloomberg data. All three funds are "very bullish" on commodities, Wolfe said.
"We see the next area of opportunity in the further consolidation of the resource sector, driven by continued growth in the emerging markets," she said. "The hard asset and commodity theme should be of particular interest to investors in the months and years to come."
Three other funds managed by Salida are being liquidated after being "affected by market dislocation as a result of exposure" to bankrupt Lehman Brothers Holdings Inc, according to the firm's website.
Last year's winner, Chinese hedge-fund manager Zhao Danyang, said he quizzed Buffett about commodities when he had his lunch at the Smith & Wollensky restaurant on Third Avenue in Manhattan last month. Wolfe said her firm hadn't bid in a Buffett auction before this year.
The Glide Foundation, a San Francisco-based charity where Buffett's late wife volunteered, receives all proceeds from the annual auction. The auction has raised more than $5.92 million for Glide over the past decade, helping the foundation offer food, clothes, shelter and healthcare to the needy.
Bloomberg News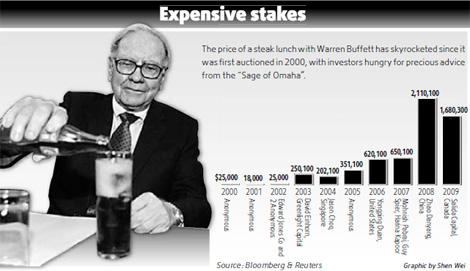 (China Daily 07/10/2009 page16)