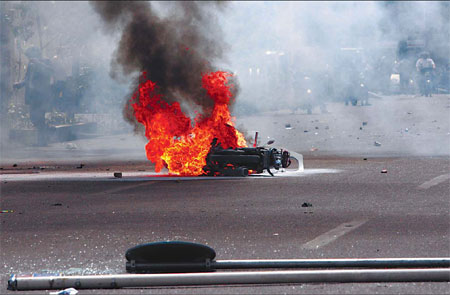 A motorcycle burns in a street in Teheran, Iran, yesterday. Iranian youths opposed to President Mahmoud Ahmadinejad took to the streets, setting trash dumpsters and tires on fire, in a second day of clashes triggered by voter fraud claims. AP
TEHERAN: Supporters and opponents of Iran's hardline President Mahmoud Ahmadinejad took to the streets of Teheran yesterday, underscoring the harsh political conflict exposed by a disputed presidential election.
The unrest has rocked Teheran and other cities since results were declared on Saturday.
Ahmadinejad waved and smiled at tens of thousands of his flag-waving partisans thronging the capital's Vali-e Asr square to celebrate the vote he won on Friday by an unexpected margin.
Supporters of defeated challenger Mirhossein Mousavi, a moderate who has dismissed Ahmadinejad's triumph as a "dangerous charade", earlier gathered in central Teheran, chanted his name and threw stones at police, a witness said.
Mousavi demanded yesterday that the presidential vote be annulled and urged more protests. In a statement on his website, Mousavi said he had formally asked the Guardian Council, a legislative body, to cancel the election result. "I urge you, Iranian nation, to continue your nationwide protests in a peaceful and legal way," he added.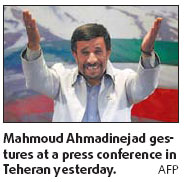 Police on motorcycles drove through the crowd to disperse the protesters yesterday. At least one person, a woman, was injured. Police briefly detained journalists filming the violence.
About 2,000 students at Teheran University, some carrying Mousavi posters, others covering their faces with bandanas, chanted anti-government slogans and taunted riot police across the road outside. Some threw stones at police when they chased protesters who had tried to gather outside the university gates.
No nuclear policy change
Ahmadinejad described the election as "clean and healthy", dismissing complaints by defeated candidates as sour grapes.
"They may be upset by their failure," he told a news conference. "They spent a lot of money to make propaganda (and) expected to win, so it is natural they are disappointed."
He consigned Iran's nuclear dispute to the past, signaling no nuclear policy change in his second term, and warned that any country that attacked his own would regret it. "Who dares to attack Iran? Who even dares to think about it?" he asked.
Iran's refusal to halt nuclear work the West suspects is aimed at making bombs, a charge Teheran denies, has sparked talk of possible US or Israeli strikes on its nuclear sites.
'100 reformers detained'
Police have detained more than 100 reformers, including the brother of former president Mohammad Khatami, a leading reformer said yesterday.
Ahmadinejad's unexpectedly overwhelming victory and its violent aftermath raised fresh questions about how Iran will respond to US President Barack Obama's diplomatic overtures.
Analysts said the election result would disappoint Western powers trying to convince the world's fifth biggest oil exporter to halt sensitive nuclear work. Obama has urged Iran's leadership "to unclench its fist" for a new start in relations.
Mohammad Ali Abtahi, who served as a vice-president under Khatami, said the former president's brother, Mohammad Reza Khatami, was among more than 100 members of Iran's biggest reformist party, Mosharekat, who were held on Saturday.
"There are reports a political party was involved in yesterday's incidents. Some of them have been arrested," Iran's deputy police chief Ahmed Reza Radan said. He denied Khatami was among them.
Nuke-armed foe 'acceptable'
Only one in five Israeli Jews believes a nuclear-armed Iran would try to destroy Israel and most see life continuing as normal should their arch-foe get the bomb, an opinion poll published yesterday found.
The survey, commissioned by a Tel Aviv University think tank, appeared to challenge the argument of successive Israeli governments that Iran must be denied the means to make atomic weapons lest it threaten the existence of the Jewish state.
Asked how a nuclear-armed Iran would affect their lives, 80 percent of respondents said they expected no change. Eleven percent said they would consider emigrating and 9 percent said they would consider relocating inside Israel.
Twenty-one percent of Israelis believe Iran "would attack Israel with nuclear weapons with the objective of destroying it," the Institute for National Security Studies (INSS), which commissioned the poll, said in a statement.
Some Israeli officials have said that the Islamic republic's ruling clerics may consider destroying Israel a goal worth the risk even of a devastating counter-strike: Israel is widely assumed to have the Middle East's only atomic arsenal.
Reuters
(China Daily 06/15/2009 page6)