China should try to free itself of excessive dependence on the world energy market and set up a self-reliant energy structure for the sustainable development of its growing economy.
The country's dependence on energy imports has been rising in recent years. According to statistics released by the General Administration of Customs, last year, the net crude oil imported by the world's third largest economy was 175 million tons against 189 million tons produced at home. That means for 50 percent of its crude oil demand, China is dependent on foreign markets. This poses a serious challenge to the country's energy security and its sustainable development.
Robert Priddle, former chief of the International Energy Agency, is of the view that China, as a country in transition, is yet to resolve a raft of pressing energy issues, given that its energy structure is changing from one of self-reliance to a growing dependence on imports.
China's economic growth has relied on exhaustive consumption of its limited energy resources. Since energy prices are soaring and energy shortage is increasing worldwide, China should stick to the conservation principle: depend more on domestic energy, such as its enormous coal reserves.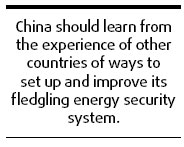 The country should first take every possible measure to curb the unrestrained development of some of the energy-guzzling and high-pollution sectors; and put in place a variety of State policies designed to limit exports of such products. To this end, a set of electricity pricing standards should be implemented that differentiate high-energy and high-pollution sectors from more efficient enterprises. Also, there should be a thorough overhaul of domestic enterprises, high-energy and high-pollution ones in particular, to encourage them to introduce superior equipment and production techniques for cost reduction and elimination of outdated processes.
Besides, more effort should be made to strengthen awareness of economical energy utilization and motivate low-standard enterprises to increase technological inputs for conservation and emission reduction. The prevailing lower international oil prices should not be used to stimulate domestic oil consumption as a means to expedite economic recovery and development.
As one of the world's largest energy consumers, China should make unremitting efforts to set up a diversified energy structure and increase supplies. The country should improve its oil, gas and hydropower output levels, and step up development of nuclear power technology. There should be breakthroughs in the development of wind and solar power and bio-energy technologies to popularize their application on a meaningful scale. Economics theory tells that, as a developing country, China is unlikely to leap over the energy-intensive industrialized stage.
However, China should try to avoid the old high-energy and high-pollution development model once taken by most of the world's industrialized nations. It should choose to move forward on a new path. That demands China should acquire a new perspective on its industrial structural adjustment and strengthen its energy supplying capability. Also, a multiple energy development pattern is needed, with coal, oil and natural gas playing a major role while hydropower, wind power and bio-energy, solar and nuclear power play an auxiliary part.
It is known that China is a coal-abundant nation and the country's enormous coal reserves could meet its long-term demands. However, the proportion of China's coal consumption to its total energy consumption decreased to 68.9 percent in 2006 from 96.7 percent in 1952. Such a coal-dependent energy structure is not expected to change fundamentally within a short period.
To meet the demands for its economic growth and for environmental protection, China should capitalize on its advantage in coal reserves through improvements in coal production and processing technology. In doing so, the ultimate purpose is more effective energy utilization, reduced environmental pollution, and improved capability for self-reliance.
At the same time, China should learn from the experience of other countries of ways to set up and improve its fledgling energy security system. To this end, the country should improve its energy laws and regulations, create a system of energy information, and frame an early security warning and emergency mechanism. Besides, an open dialogue platform should be set up among producers and consumers to expand the energy supply network and promote globalization of production, transportation, purchase, transaction and utilization.
While introducing advanced energy technologies from abroad, China should also make an effort to promote their assimilation and innovation at home.
The authors are professors with Nanjing University. Shanghai Forum contributed to the article.
(China Daily 06/02/2009 page8)