Emerging countries are helping to write one of the most important chapters in the history of the 21st Century. There are signs of a new, more complex and interesting reality taking shape. Future generations will judge if we have shown creativity, intelligence and courage to seize opportunities and face challenges. For a more just and fair international order will not emerge spontaneously. Concerted efforts and dialogue will be required among developing countries for their voice to be increasingly heard on the global stage.
As a large emerging country, Brazil wishes to contribute to this process. Strengthening diplomatic and economic alliances with other major developing countries is a pillar of Brazilian foreign policy. It is my belief that cooperation and friendship among developing countries is increasingly required to overcome the present threats to peace and development.
Sino-Brazilian relations offer a concrete example of mutual understanding and respect between two major emerging countries. Success stories abound, such as the China-Brazil Earth Resources Satellite (CBERS) Program, launched in 1988. Thanks to the collaborative efforts of Brazilian and Chinese scientists, three observation satellites have been launched. They generate high-definition images of the Earth. This data has multiple uses, such as monitoring environmental conditions and mapping land and ocean resources. Brazil and China are responsible for the funding, on an equal basis, of the CBERS Program now underway. Given its success, we look forward to launching two additional satellites. Images generated by CBERS will be made freely available to African countries.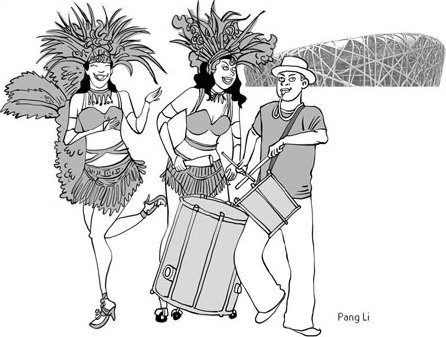 An equally important scientific and technological initiative was the setting up, last January, of the China-Brazil Center on Climate Change and Innovative Technologies. It is a partnership between the Federal University of Rio de Janeiro and Tsinghua University, both of which host top-notch engineering facilities of international renown. Here, Brazilian and Chinese scientists will research projects to reduce greenhouse gas emissions and identify alternative sources for biodiesel. The Brazilian government will invest, over the next two years, approximately $2 million to fund the center.
We hope to see bilateral cooperation expanded to include biotechnology and nanotechnology and other areas of biofuels. Furthermore, Brazil and China should see their cultural differences not as an obstacle but as a stimulus for enhanced cooperation and mutual learning. To this end the prestigious Chinese Academy of Social Sciences is opening a Center for Brazilian Studies, the first of its kind focusing on a Latin American country. The center's main activities will include the translation into Chinese and the publication of classic texts of Brazilian social tought.
A greater command of the Portuguese language by Chinese students is crucial to enlarging mutual understanding between our societies. In Beijing, Peking University and Communications University offer courses onPortuguese with Brazilian teachers, supported by the Brazilian government. Portuguese is spoken by over 240 million people. It is the official language of eight countries in Latin America, Africa, Europe and Asia. In China, Portuguese is an official language in Macao. The Portuguese language has a rich cultural heritage, which should stimulate its study by Chinese students. Furthermore, a command of Portuguese offers excellent employment opportunities both in China and overseas.
Trade between Brazil and China has more than matched the results achieved in other areas. Exports and imports have expanded exponentially in recent years, approaching a total of $40 billion in 2008. As a result this year China became Brazil's No.1 trading partner. Brazil now wishes to diversify its exports to China and attract more investments. We also hope to see more financial partnerships between Brazilian and Chinese companies.
So many success stories would not have been possible without political leadership. The 1993 launching of the Brazil and China Strategic Partnership was a decision of major political significance. A further step was taken in 2004 with the setting up of the China-Brazil High-Level Coordination and Cooperation Committee, or COSBAN, now under the co-chairmanship of Vice President Jos Alencar and Vice Premier Wang Qishan. Its second meeting will take place this year to develop a Joint Action Plan for the next five years to promote Sino-Brazilian relations.
Last year I had the satisfaction of meeting with President Hu Jintao three times. Last April we met once again in London. This is the third visit that I pay to China since taking office. The number and frequency of our meetings reflect the priority we attach to a relationship that goes far beyond the bilateral dimension. Brazil and China must strengthen their dialogue in the context of the BRICs and the G5, as well as on other major themes of the global agenda. At the G20 Financial Summits, in Washington and London, we joined forces to support a major reform of the international financial system, the rapid conclusion of the Doha Round and the rejection of protectionist pressures in the face of the global downturn. The systemic challenges facing the world economy underscore the growing responsibilities of emerging economies. Brazil and China have already made clear their commitment to fostering global growth as the best response to faltering demand and the downward spiral in world trade.
In 2009, Brazil and China celebrate the 35th anniversary of the establishment of diplomatic relations between the two countries. Rather than simply commemorate our achievements over these many years, we should focus on the challenges of taking our partnership to a higher level. We must do so for the benefit of our peoples, and be fully aware of Brazil's and China's shared responsibility to help bring about the fundamental reforms in global governance that the world so urgently needs.
The author is President of Brazil.
(China Daily 05/19/2009 page9)