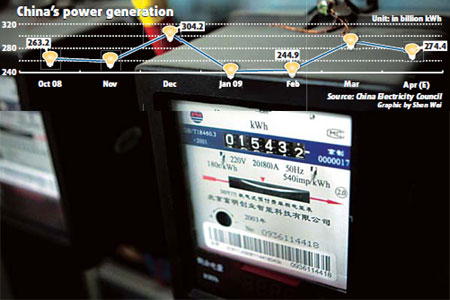 An electricity meter monitors usage in Beijing. Bloomberg News
China's power generation is likely to have fallen by 4 percent year-on-year in April, signaling that a recovery in the economy was still some way off, said industry insiders.
The country's power generation might have decreased year-on-year last month, and the downward rate might have been larger than that seen in March, said Xue Jing, director of the statistics and information department under the China Electricity Council (CEC).
The government is expected to release the official figure later this month.
China's power generation, an important barometer of the economy, is still "fluctuating at the bottom level", Xue said.
According to sources with State Grid Corp of China (SGCC), the country's main power transmission company, China's power generation in terms of the daily average dropped by 3.9 percent from April 11 to 20, when compared with the same period last year.
This was larger than the 3.5 percent drop seen from April 1 to 10, said the sources.
"Figures for the last 10 days of April are not optimistic, as there has been no big recovery in industrial power consumption, which accounts for a large part of the total power usage," said a source with SGCC yesterday.
From April 11 to 20, power generation in China's eastern coastal regions fell. Power generation in Guangdong fell by 18.5 percent compared with the same period last year; that in Guangxi was down by 25.3 percent, and in Jiangsu, it fell by 10.2 percent.
Only Zhejiang saw a 0.7 percent growth year-on-year in those 10 days, said SGCC.
In the country's western area, apart from Yunnan, which saw a 40.4 percent year-on-year growth in the same period, provinces and autonomous regions such as Inner Mongolia, Shanxi, Gansu, and Ningxia all saw their power generation decrease by between 7 percent and 15 percent, SGCC sources said.
Although the rate of decline in April may be faster than that in March, the big drop in power generation overall has been halted, said Chang Jianping, an official with the State Electricity Regulatory Commission. "We expect that the situation will get better after May."
China's power demand will continue to fall in the first half of this year before picking up in the third quarter, the CEC had said earlier.
The first two quarters will be the most difficult time for the industry, it had said.
From the end of the second quarter, power demand may start to increase in north and east China as well as the southern coastal regions. That should, in turn, drive up demand in the central and western regions in the fourth quarter, it said.
Since October last year China has seen negative growth in power generation.
In the first quarter of this year, the country generated 779.7 billion kWh of electricity, a 2 percent drop year-on-year. The downward rate was 4 percentage points lower than that in the fourth quarter of last year.
(China Daily 05/05/2009 page13)