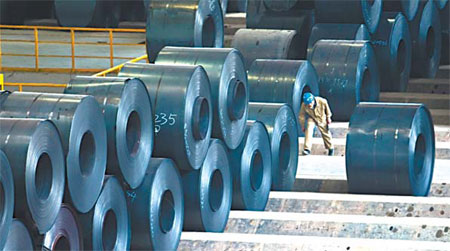 Steel products ready for shipping at a Wuhan Iron & Steel plant. CFP
SHANGHAI: Wuhan Iron & Steel Co, China's fifth-largest steel maker by market value, enjoys a slight advantage over its more powerful competitors in that the demand of its higher value-added core product, silicon steel, has remained steady amid the general downturn.
Analysts said although the advantage seems small, this single product could help the company pull ahead of others when the industry begins to recover from its present slump.
"Wuhan Iron's silicon steel product can guarantee steady flow of earnings during these hard times," said Luo Wei, analyst with China International Capital Corp Ltd. The company sold 50,000 metric tons of silicon steel in the past year. The margin on a single metric ton of silicon steel is between 13,000 and 15,000 yuan.
If it hadn't been for the better profit margins through the sale of silicon steel products, the company's results for the first quarter would have looked even more dismal, analysts said.
The company said its net profit for the three months to March 31 shrank to 262.51 million yuan, or one-eighth the year ago number, while sales tumbled 30 percent.
The Shanghai-listed steel maker had posted a net profit of 5.189 billion yuan for 2008, down 20.48 percent from 2007. Revenue had gone up by 35.41 percent, to 73.339 billion yuan.
"Wuhan Iron's annual report is within our expectation. It estimated a 1.8 billion yuan loss due to the inventory price drop. If we factor that out, the company still made ends meet in the last quarter," said Liu Yuanrui, analyst from Changjiang Securities.
The sharp drop in steel prices during the last quarter of 2008 dragged down the company's profits. As an inland steel smelter, the high logistics cost disadvantaged it when competing with Baosteel or Ansteel, which are near the coast, said Luo Wei, analyst with China International Capital Corporation Ltd.
But that disadvantage was largely offset by its concentration on the production and sales of higher value added silicon steel, analysts said.
(China Daily 04/21/2009 page15)